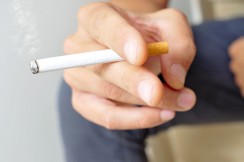 California lawmakers voted Thursday to approve legislation that would raise The Golden State's smoking age from 18 to 21. The changes comes as part of a sweeping legislative package of six bills designed to curb tobacco use. The legislation marks the most substantial anti-tobacco effort in nearly two decades, according to the American Cancer Society.
"With California having such a huge population, it's going to be very impactful nationwide," said Cathy Callaway, Associate Director of State and Local Campaigns for the American Cancer Society.
If the bill is approved by Democratic Governor Jerry Brown, the country's most populous state will become the second to raise the smoking age. Hawaii raised the legal smoking age for traditional and electronic cigarettes to 21 on Jan. 1, becoming the first state in the nation to do so. Two major American cities have already raised the smoking age to 21: New York City and, more recently, San Francisco.
The bill comes as a surprise considering the immense lobbying capacity of the tobacco industry—or, "big tobacco"—who fought tooth and nail, in conjunction with Republican lawmakers, to keep the government out of the decision making of individuals, regardless of whether those decisions are harmful to their health.
"You can commit a felony when you're 18 years old and for the rest of your life, be in prison," Assembly Republican Leader Chad Mayes said. "And yet you can't buy a pack of cigarettes."
Critics of the legislation believe that 18 is a crucial age where young people merge into adulthood and the serious decisions that come with it, including voting rights and selective service registration. The "I can go to war but I can't smoke a cigarette!" argument was addressed by the Democratic drafters, who carved out an exception to allow members of the military to continue buying cigarettes at 18. It's too early to tell whether the military will see a bump in enrollment.
On the other hand, advocates of a higher smoking age cite data from the U.S. Surgeon General, which notes that the vast majority of smokers start before they turn 18, effectively committing them to the habit at a young age. By increasing the smoking age, high school students will no longer be able to purchase and facilitate cigarettes among their peers. The law will help to remove cigarettes from the high school sphere completely and, consequently, the imagery of teens hanging outside schools smoking butts may soon be nothing more than anachronism.
Anti-tobacco advocates fear the popularization of vaporizers and their culture—memes, hashtags and all—may entice young people to eventually take up smoking in it's less electronic, derivative form. There has yet to be a scientific consensus on the harms or benefits of vaporizers.
In California, minors can be charged a $75 fine and 30 hours of community service for possessing or purchasing tobacco products (Ca. Penal Code § 308).
[h/t ABC7]
Have a tip we should know? [email protected]