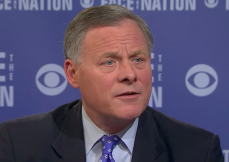 Senate Intelligence Committee Director Richard Burr (R-NC) confirmed Wednesday that the Committee will be receiving and reviewing the memos of former FBI Director James Comey that detailed his meetings with President Donald Trump, according to POLITICO.  Comey famously testified about the contents of his memos earlier this month, which included details of Trump requesting loyalty of Comey and a "hope" that he could drop the probe of former National Security Advisor Michael Flynn that some have interpreted as an order.
Comey's hearing led some members of Congress to accuse President Trump of obstruction of justice, a claim that the FBI is reportedly investigating. Burr and leading committee Democrat Mark Warner (D-VA)  have met with Special Counsel Robert Mueller earlier this month, who is also in possession of the memos, although Burr and Warner have announced that the Committee is not investigating the obstruction claims.
Burr confirmed that he had a "commitment" that he would receive the memos, although he declined to confirm who he received the affirmation from to POLITICO.  It is unclear when the panel will acquire the memos, which are currently in the FBI's possession.  Burr appeared to be optimistic about getting the memos soon, though: "It does us no good later," he joked.
The panel runs most of its operations in secret, however, so it is unlikely the public will be able to view them as of now.
[Image Via Screengrab]
Have a tip we should know? [email protected]