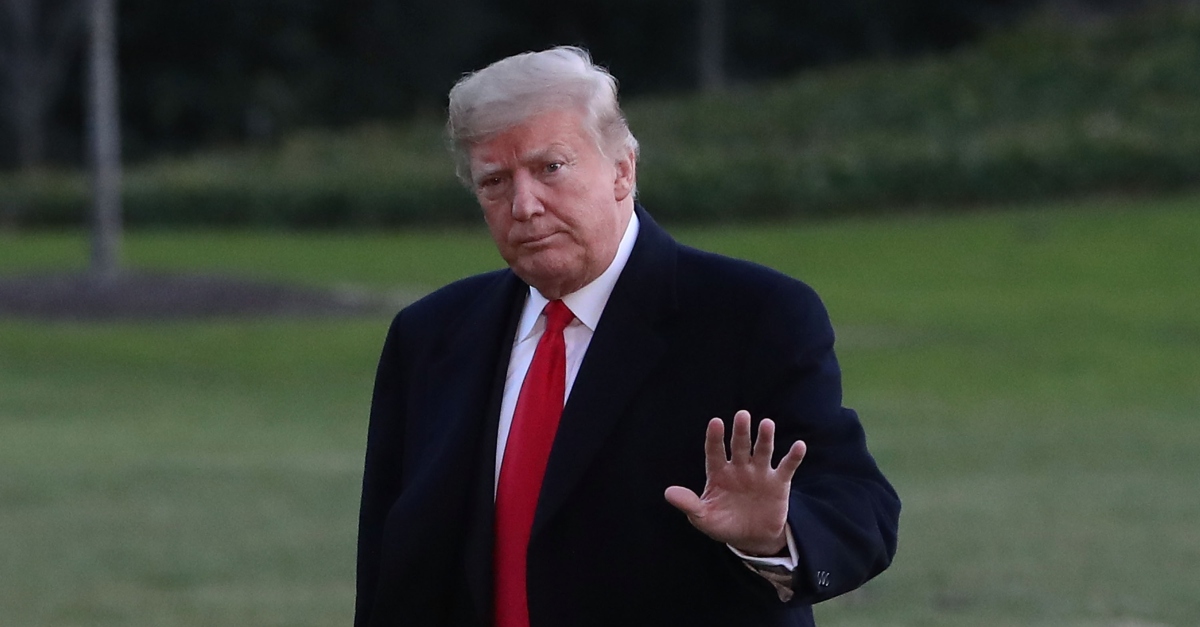 By and large, officials at the Department of Justice think a sitting president shouldn't be indicted, but the story is very different when it comes to former presidents. Federal prosecutors in New York say Donald Trump's former lawyer Michael Cohen implicated him in campaign finance violations. While no charges have been filed, it's possible that the commander-in-chief will be in serious legal trouble if he is not reelected in 2020.
Those New York prosecutors looked at the statute of limitations on campaign finance violations, and think Trump could be charged in 2021 if he isn't re-elected, according to a source in a New York Times report from Saturday. The person is described as having been "briefed on the matter."
The analysis comes after the U.S. Attorney's Office for the Southern District of New York and Special Counsel Robert Mueller's office turned in their sentencing memos against Cohen. Trump's former "fixer" pleaded guilty to lying to federal investigators and to committing financial crimes, but we're concerned about two: That during the presidential campaign, he purchased the silence of porn star Stormy Daniels and Playboy model Karen McDougal, two women who claimed to have had affairs with then-candidate Trump.
From the memo [citation removed, emphasis ours]:
During the campaign, Cohen played a central role in two similar schemes to purchase the rights to stories – each from women who claimed to have had an affair with Individual-1 – so as to suppress the stories and thereby prevent them from influencing the election. With respect to both payments, Cohen acted with the intent to influence the 2016 presidential election. Cohen coordinated his actions with one or more members of the campaign, including through meetings and phone calls, about the fact, nature, and timing of the payments. … In particular, and as Cohen himself has now admitted, with respect to both payments, he acted in coordination with and at the direction of Individual-1.
After the release of the memos, Trump's twitter account put out this post.
Totally clears the President. Thank you!

— Donald J. Trump (@realDonaldTrump) December 7, 2018
The president has denied wrongdoing, and distanced himself from his former attorney.
[Image via Mark Wilson/Getty Images]
Have a tip we should know? [email protected]