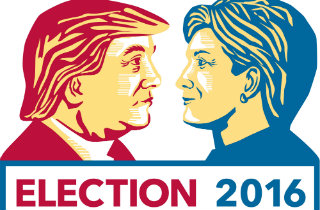 Liberty Action Group PAC had been prominent in radio advertising, generating hundreds of thousands in funds that were theoretically supposed to go to Donald Trump's presidential campaign. Their advertising campaign screeched to a halt, however, on September 9th. That was the day after Buzzfeed News first reported on a robocall-centric lawsuit against them and a week after their report on the PAC  that "found no evidence" that the PAC is giving any of its almost $800,000 to the Trump campaign. To date, more than half of that money has gone to an unnamed "media consultant."
In Liberty's latest Federal Election Commission (FEC) filings, which were submitted on Friday, the organization's treasurer and one of its main contacts have had their names removed. The PAC's director, Josiah Cammer, did not respond to their request for comment on the radio blackout, with his last public statements being in a letter to the FEC (PDF) two weeks ago. After the FEC asked the PAC for more information about its donors and who the PAC, in turn, was giving money to, this is what Cammer wrote back to them:
I'd like to confirm receipt of the included letter requesting additional contributor employer information along with including the address, and purpose of the itemized disbursements. The organization is committed and in agreement on resolving both outlined issues.

Regarding requested donor occupation information, the organization was not informed nor aware that such information was required therefore, the data was not captured during the initial request. After receiving the letter requesting this information, we've emailed the contributor base requesting this information. As of today, we have received a response from more than 10% of our donors. As soon as we receive the response from 80% of the donors, we will update and resubmit our first quarter reports.

Regarding requesting address and purpose of the itemized disbursements, we've resubmitted as requested.

Joey Cammer
Director
Liberty Action Group
Just in case this didn't already come off somewhat suspect, Progressive Priorities PAC, theoretically a pro-Democrats group, had the same treasurer (and contact information) as pro-Trump Liberty Action Group. Yes, the treasurer who just left Liberty, as well. In Progressive Priorities' new FEC filings, also submitted Friday, the treasurer was replaced by director Alexa Roth…who subsequently told Buzzfeed that she had no knowledge of the filings.
It should go without saying at this point that Buzzfeed sources tell them that the two PACs, ostensibly on opposite sides of the political spectrum, are "run by the same individuals." That's…interesting.
[Photo: Shutterstock]
Have a tip we should know? [email protected]