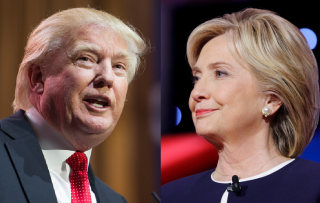 The first Presidential Debate between Republican Donald Trump and Democrat Hillary Clinton will take place Monday night at 9pm at Hofstra University. The rules and details of the debates are generally agreed upon by the campaigns and the Commission on Presidential Debates (CPD), but only certain details have been released to the public. Here's a preview of what to expect based on we do know:
1. Time and Topics
The CPD has released some information about the format of the debate. The whole thing will run for 90 minutes with no commercial interruption. Moderator Lester Holt has selected three topics that he will focus on: America's Direction, Achieving Prosperity, and Securing America. Based on this, expect questions based on social issues such as transgender rights and religious freedom, economic issues like tax plans and trade, and national security issues like ISIS, Iran, and immigration. Each of the three topics will have two 15-minute segments.
2. Questions and Answers
In Monday's debate, the moderator will initiate each segment by asking a question, and then each candidate will have two minutes to answer. They will then get to address each other, and Holt will have the opportunity to ask additional questions to further explore the topic at hand. Holt chooses which questions to ask, and neither the candidates nor the CPD know what they will be.
3. Fact Checking
One of 2012's moderators, Candy Crowley, came under fire for her active role in one of the debates between President Barack Obama and Mitt Romney. Crowley had said prior to the debate that she would "engage with them," which drew criticism from both campaigns. After she got into a back and forth with Romney during the debate, many viewers thought she went too far. Donald Trump has gone on record saying he is against moderators serving as fact checker during the debate. Trump told Fox News, "You're debating somebody, and if she makes a mistake or if I make a mistake, we'll take each other on."
It's hard to say whether the rules this year will prevent a moderator from pulling a Crowley. Since Trump's campaign has input when it comes to the rules, it's possible that there is a provision the Memorandum of Understanding that sets out the rules. However, moderators don't sign off on the rules, and Crowley said in 2012 that she wasn't aware of the rules going into the debate.
Speaking of those 2012 rules, they were eventually released, which could give some insight into what this year's rules may be.
4. Opening Statements
The 2012 memo stated that the candidates would not give opening statements at any of the debates. It appears that this year will be no different, as the details regarding Monday's debate format do not say anything about opening statements.
5. Keep it Simple
The 2012 rules said that candidates were not allowed to use any props, charts, or other aids during the debate, although they were allowed to take notes at their respective podiums. They were also not allowed to mention any individuals in the audience except for family members. It remains to be seen if this rule remains for the 2016 debates. There had been rumors that Trump had invited Gennifer Flowers to attend Monday's debate. Trump campaign spokeswoman Kellyanne Conway told CNN's Jake Tapper that this was false. Trump had suggested that he might invite Flowers, who had an affair with Bill Clinton in the 1970s, but Trump's running mate, Mike Pence, said he was not serious when he said that. The Flowers rumor mill started after Mark Cuban said the Clinton camp invited him to sit in the front row.
If dopey Mark Cuban of failed Benefactor fame wants to sit in the front row, perhaps I will put Gennifer Flowers right alongside of him!

— Donald J. Trump (@realDonaldTrump) September 24, 2016
Flowers told The New York Times on Saturday that she would be at the debate, but did not respond to messages after the Trump camp denied it.
The debate will be airing on ABC, CBS, Fox, NBC, PBS, C-SPAN, CNBC, CNN, Fox News, Fox Business, MSNBC, Telemundo, and Univision. It will be streaming online at ABC News, Buzzfeed News, CBS News, CNN, C-SPAN, The Daily Caller, Facebook, Fox News, Hulu, Huffington Post, NBC, PBS, Politico, Telemundo, The Wall Street Journal, Twitter, Univision, Mediaite and Yahoo, YouTube.
Have a tip we should know? [email protected]