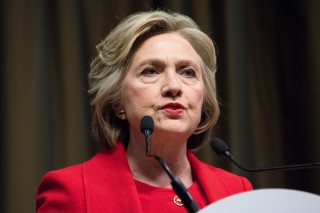 As a legal commentator/writer for a legal website, there is one question that I am dying to know the answer to. Well, actually technically, it is two questions, and it's a subject that up until hopefully tonight, Clinton has refused to directly address.  In fact, she's been very skilled at dodging it — and it's a critical question as it relates to the future of the U.S. Supreme Court. Up until now, Hillary Clinton has refused to say whether she would re-nominate Merrick Garland to our country's highest court.
When Garland was first nominated back in March by President Barack Obama, I predicted that he would become a sacrificial lamb. If Trump pulls through with a win on November 8, there is no question that's what will happen. Garland's nomination will be stalled until Trump comes into office, and then Garland's hopes of ever being a U.S. Supreme Court justice will be squashed forever. But the more interesting question, as it relates to Garland's future, is what Clinton would do if she wins. So far, she's refused to say, and we've documented all of her dodges here at LawNewz.com.  What's more, Clinton hasn't really given us a clear picture (like named names) of who she would nominate to the U.S. Supreme Court.
Earlier this month, for example, Clinton said she would not be bound to Merrick Garland, saying that she would "look broadly and widely for people who represent the diversity of our country" if she has the opportunity to make "any" Supreme Court nominations.  So to be clear, she never said she would abandon Garland, but never said she would keep him either.
In August, top Senate Democrats  reportedly began lobbying Clinton to renominate Garland for the Supreme Court, in order to gain an "early advantage against Republicans" if she wins the election.  This August Politico article brought up some interesting points:
But renominating Garland would mean that Clinton, who's already running the 2016 campaign as more of an extension of Obama than she ever planned, would have to make one of her first and most significant decisions as president a direct extension of his presidency, long after he's settled into his new home in Washington's Kalorama neighborhood. It also could cause an instant letdown on the left, which has long been skeptical of Clinton's liberal credentials and may want a pure progressive choice
So Clinton is in a bit of a Catch-22.  Garland is seen as a judicial moderate (even though his decisions are liberal leaning). If Clinton says that she will re-nominate him, she will instantly disappoint the left. If she doesn't, she will be accused of not being loyal to a President who she has so closely aligned herself with during the election. That's why if Lester Holt asked her a question about this tonight, it could trip her up. But, he should, because it's a question that Americans have the right to know.  She shouldn't be allowed to punt any longer on this one.
In reality, of course, there is a third scenario. There is a very real possibility that if Clinton is elected, Republicans will opt to confirm Garland during a lame duck session instead of leaving it to her to re-nominate him — or God forbid, someone even more liberal.  While a few names have leaked, we haven't heard anything official from Hillary Clinton or her campaign about who she would nominate.  It's critical that we know her position not only on Garland's nomination, but also on the types of justices (and I'm asking for names) that she would pick. Trump's given his, um, list.  I think we have a right to know more about Clinton's picks too. After all, these future Supreme Court justices could shape the course of our legal system for years to come.
This is an opinion piece. The views expressed in this article are those of just the author.
Rachel Stockman - Editor in Chief / On Air Host