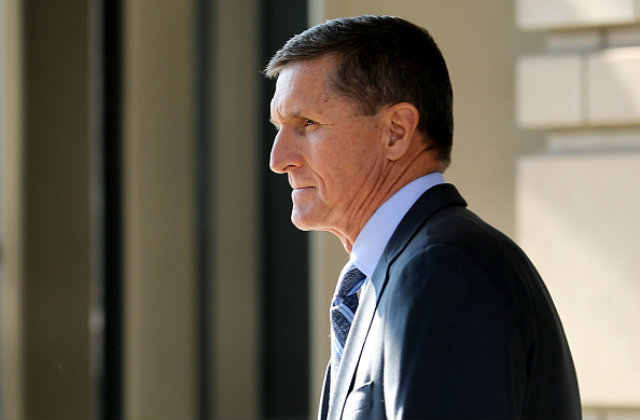 A joint status report filed Wednesday postponed the sentencing hearing of former National Security Adviser Michael Flynn. What does it mean? He's probably making good on his promise to cooperate.
"Due to the status of the Special Counsel's investigation, the parties do not believe that this matter is ready to be scheduled for a sentencing hearing at this time," said the report signed Special Counsel Robert Mueller, other federal prosecutors, and Flynn's legal team.
Of course, that quote never goes into detail about precise "status" of Mueller's probe into Russian election interference, but it seems to show that Flynn is cooperating with the probe as promised. That's the explanation we got from William Thomas, an Atlanta-based defense lawyer and former federal prosecutor
"It means that someone is cooperating in the Special Counsel's investigation and they would like for the cooperation to be completed before sentencing," Thomas wrote in an email to Law&Crime.
Professor Rory Little at the UC Hastings College of Law had a similar assessment.
"Normally, you do not sentence a cooperator until after they testified at a trial or a case is otherwise resolved," said Little, another former federal prosecutor. He pointed out, however, that there is no way to know for sure why the sentence was postponed in this instance.
Flynn pleaded guilty last year to lying to the FBI about his conversations with the Russian ambassador during the presidential transition. He promised to cooperate, and under the plea agreement, sentencing would be delayed until that is over.
This cooperation could mean that Mueller's team has their eyes set on someone more important than Flynn himself. Who that is remains unclear, though the president's son Donald Trump Jr. and son-in-law Jared Kushner have garnered some infamy thanks to their June 2016 meeting with a Russian lawyer at Trump Tower. It remains unclear if they actually broke any laws, however.
Mueller is investigating whether the Trump campaign colluded with Russia's 2016 election interference.  President Donald Trump has repeatedly called the probe a "witch hunt."
Rachel Stockman contributed to this report.
Note: Updated with Little's analysis.
[Image via Chip Somodevilla/Getty Images]
Have a tip we should know? [email protected]