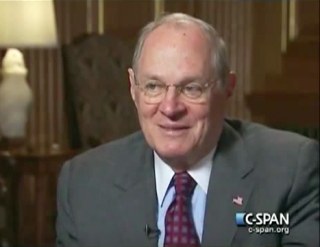 Rumors regarding Supreme Court Justice Anthony Kennedy's retirement have been swirling, creating questions about the impact his absence could have for future decisions as well as possible nominees for replacements.  At Saturday night's reunion dinner for Justice Kennedy's law clerks, the 80-year old and soon to be 81 Justice made an important announcement during his remarks.
According to Above The Law, Kennedy said that "there has been a lot of speculation about… a certain announcement from me tonight. And that announcement is: the bar will remain open after the end of the formal program!" The announcement humorously cast some doubt upon the retirement rumors.  Justice Kennedy also has law clerks lined up for the next term and the following term according to SCOTUSblog, although justices frequently hire clerks far in advance.
Kennedy maintained his silence Monday during the release of new Supreme Court orders and decisions, which marked the final day of the current Supreme Court term.  It is possible for Justice Kennedy to announce his retirement later this summer, however–former Justice Sandra Day O'Connor made her decision to retire from the Court in July of 2005.  America will simply have to wait and see if he will remain on the bench for the next term to decide on hot-button issues like the Trump travel ban and whether a bakery can refuse to bake a cake for a same-sex marriage.
[Image via C-SPAN Screengrab]
Have a tip we should know? [email protected]