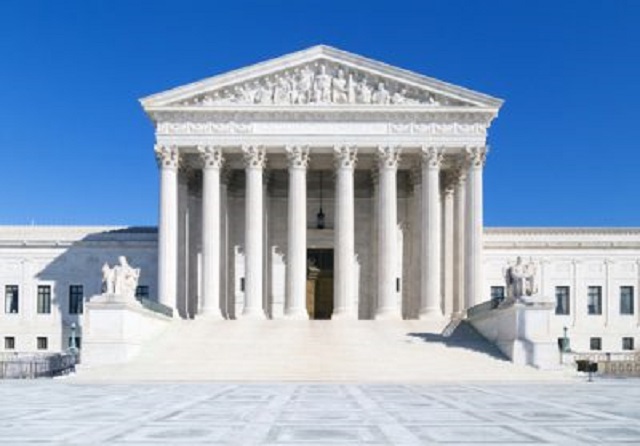 Call it a 'Muslim ban'–as President Donald Trump and his website used to. Call it a 'travel ban.' Or call it Executive Order No. 13780, Protecting the Nation from Foreign Terrorist Entry into the United States.
But no matter what you call it, it's now a limited win for the Trump administration (at least for now). This morning the Supreme Court stayed lower courts' injunctions and allowed the ban to be enforced–partly, at least–until a final decision is made during the court's October term.
Here's the deal, according to the Supreme Court: "[F]oreign nationals who lack any bona fide relationship with a person or entity in the United States" are now banned from entering the country if they're from Iran, Syria, Sudan, Somalia, Libya or Yemen.
Some parts of the injunctions were left in place. The opinion goes on to say: "[F]oreign nationals who have a credible claim of a bona fide relationship with a person or entity in the United States"
What this means is that people who are in situations similar to the respondents who brought the lawsuits in the first place–and, of course, the respondents themselves–are not subject to the ban. Specifically, a bona fide relationship with a person means a close family relationship like being someone's mother, father, wife or husband.
As far as a relationship with an entity is concerned, "[It must be] formal, documented and formed in the ordinary course"–which means you're not allowed to form a relationship simply in order to get around the ban. Therefore, a Libyan student accepted to the University of Texas' J-school would be allowed into the country but Somalians contacted by a pro-immigration group would be left out in the cold.
Those familiar with the ban itself will remember that it also had a separate set of restrictions on refugees (in section six). Those restrictions were also enjoined by the lower courts and, similarly, were stayed in part and denied in part, using the same logic and guidelines outlined above.
[image via Shutterstock]
Follow Colin Kalmbacher on Twitter: @colinkalmbacher
Have a tip we should know? [email protected]