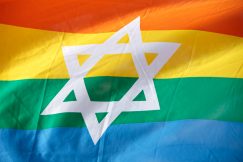 This weekend, millions of LGBTQ+ marchers and allies participated in pride events across the country.  At one event, however, three marchers holding rainbow flags with a Star of David superimposed on them along were ejected from the Chicago Dyke March.
The Windy City Times reported that the flags made some march participants "feel unsafe" and uncomfortable, as they believed it represented support for Zionism.  The Dyke March, a pride-related march that drew about 1,500 participants, said that they were not an "anti-Semitic" organization rather than "anti-Zionist" organization in a public statement on Twitter.  They also cited one participant's role as a member of a pro-Israel organization as grounds for their removal:
On why we asked folks to leave the rally at Piotrowski Park yesterday pic.twitter.com/4FKSStFFF2

— Chicago Dyke March (@DykeMarchChi) June 25, 2017
One of the women carrying the flags, Laurel Grauer, told CBS Chicago that she was asked to leave before being asked if she supported Zionism.  "It was a flag from my congregation which celebrates my queer, Jewish identity which I have done for over a decade marching in the Dyke March with the same flag," she told The Windy Times.  "People asked me if I was a Zionist and I said 'yes, I do care about the state of Israel but I also believe in a two-state solution and an independent Palestine…It's hard to swallow the idea of inclusion when you are excluding people from that. People are saying 'You can be gay but not in this way.' We do not feel welcomed. We do not feel included."
A Wider Bridge also released a statement in response to the incident, saying they were "deeply disturbed" by the removal of the participants, declaring that march failed to accomplish their goal of "bridging together communities".
[Image via Shutterstock]
Have a tip we should know? [email protected]