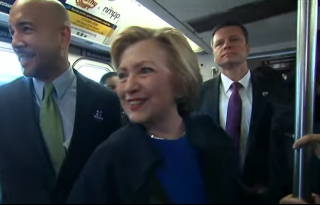 Much was made about Hillary Clinton's difficulty swiping her Metrocard into the New York City subway system on Thursday, but she may have violated Metropolitan Transit Authority rules once she boarded a train. Campaigning is allowed in the subway system, but Section 1050.6(c)1 of the MTA's Rules of Conduct say that it is not allowed on actual subway cars. The rule states that "no person shall engage in any nontransit uses upon any facility or conveyance," but allows several exceptions, campaigning being one of them. However, there are restrictions regarding where people are allowed to conduct nontransit activity. The rule says that "[p]ermitted nontransit uses may be conducted in the transit system except: (A) when on or within: a subway car; an omnibus; or, any area not generally open to the public."

So there are places within the subway system where she would have been fine. However, engaging with potential voters on the train itself, as shown in the video above, while Bronx borough president Rubén Díaz Jr. introduced her as the next President, appears to be in violation of the rules.
MTA rules also state that violations may result in criminal prosecution or civil penalties. An email to MTA headquarters asking if any charges are pending has so far gone unanswered.
[h/t The Guardian, image via screengrab]
Have a tip we should know? [email protected]