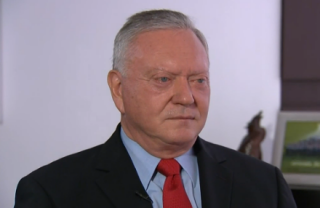 Jurgen Mossack, co-founder of Mossack Fonseca, the Panama law firm at the center of global scrutiny after a data breach revealed mysterious ties to world leaders, spoke to the media for the first time on Friday. After a hacker accessed millions of the firm's documents, the International Consortium of Investigative Journalists published many of them. Documents showed that Mossack Fonseca worked with high profile figures, including Argentinian President Mauricio Macri, individuals connected to Vladimir Putin and FIFA, the international soccer organization recently tied to a corruption scandal. The firm would incorporate off-shore shell companies for individuals who would use them as tax havens, according to CNN.
In an interview with CNBC's Eamon Javers, Mossack claimed that he was not aware of who was behind the companies his firm incorporated, and he did not monitor the companies' activities. He said that Mossack Fonseca worked with intermediary companies such as law firms, accounting firms, and banks who operated on behalf of their big-name clients without revealing their identities. Javers said that a year and a half ago, regulations changed, so now his firm has to know who they are working with, but until those changes were made, it was not required.
Mossack told Javers that his firm is not the only one that conducts this sort of business, and that similar activity takes place around the world, including in Delaware. He said his firm is only getting attention because they were hacked, and this is the first time the public has had access to millions of documents from a firm like this and can connect names to shell companies.
The firm said in a statement, "Obviously, no one likes to have their property stolen, and we intend to do whatever we can to ensure the guilty parties are brought to justice."
[h/t CNBC, image via screengrab]
Have a tip we should know? [email protected]