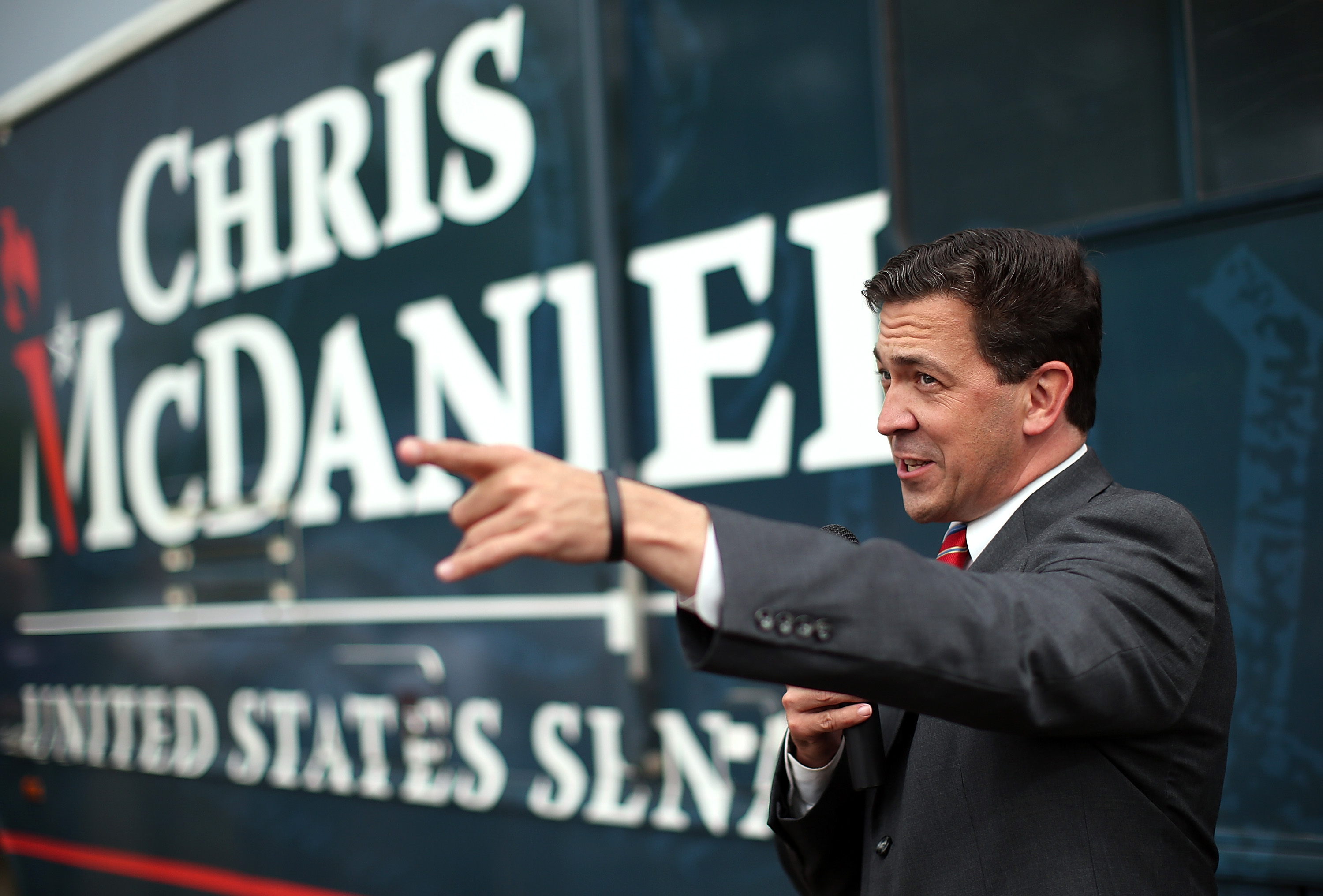 Mississippi Republican Senate candidate Chris McDaniel unlawfully coordinated with a Mercer family Super PAC in violation of federal campaign finance laws, according to a complaint filed with the Federal Election Commission on Monday.
The complaint was filed by non-partisan public interest watchdog Campaign Legal Center (CLC). A press release announcing the complaint notes:
The super PAC paid for McDaniel campaign events, advertised for them, and promoted his candidacy at them. McDaniel's personal assistant at his law firm, Susan Perkins, organized the group and became its treasurer, while also managing the McDaniels' campaign Facebook page.
An FEC filing from May 24, 2017 identifies Perkins as the treasurer of the Remember Mississippi Super PAC. A Facebook post from May 12, 2016 identifies Perkins as McDaniel's assistant. Law&Crime reached out to Perkins for comment at her office and via email but no response was forthcoming at the time of publication.
CLC's press release continues:
The Remember Mississippi super PAC, which was formed by McDaniel's assistant, took the unprecedented step of organizing, funding and advertising three McDaniel campaign events, which included speeches expressly advocating for McDaniel's election in front of a "McDaniel U.S. Senate 2018" backdrop."
Brendan Fischer, director of federal and FEC reform at CLC said, "We've never seen a super PAC take the brazen step of organizing and funding straight up campaign events for the candidate they are supporting."
Fischer also tossed a bit of scorn on the regulatory agency itself. He noted, "Thanks to the FEC's ineffective enforcement of the law, super PACs and campaigns have increasingly found ways to work closely with one another, but it appears this Mercer-backed super PAC went too far. If it wants candidates to take campaign laws seriously, the FEC must investigate and punish violators for wrongdoing."
GOP megadonor and billionaire Robert Mercer has donated $500,000 to Remember Mississippi, according to OpenSecrets.
Adav Noti, senior director of trial litigation at CLC, offered the following prescription for the Super PAC's alleged law-breaking, "The FEC should strip Remember Mississippi of its status as a super PAC, which appears to have been obtained under false pretenses, and impose major fines to deter others from violating this bright-line rule in the future."
Law&Crime reached out to McDaniel and his campaign for comment on this story. The McDaniel campaign provided the following statement in response:
JACKSON – The McDaniel campaign categorically denies any coordination with the Super PAC, Remember Mississippi.

"The complaint is completely bogus," McDaniel said. "When your candidate is in third place and President Trump opposes your candidate, you file an FEC complaint. It's just another establishment dirty trick."

Senator McDaniel attended several events sponsored by Remember Mississippi with legal guidance and was allowable by federal election law.

McDaniel stated that a decade after the creation of Super PAC's, you would think Campaign Legal would know what the law is.

Generally speaking, campaigns and Super PAC's are not allowed to coordinate messaging or resources. The McDaniel campaign says neither has occurred, and that will be the finding of the FEC.

McDaniel went on to say that filing frivolous FEC complaints is a campaign tactic that should be illegal. Nevertheless, we are fully confident that no wrongdoing will be found on the part of the McDaniel campaign.
[image via Justin Sullivan/Getty Images]
Follow Colin Kalmbacher on Twitter: @colinkalmbacher
Have a tip we should know? [email protected]