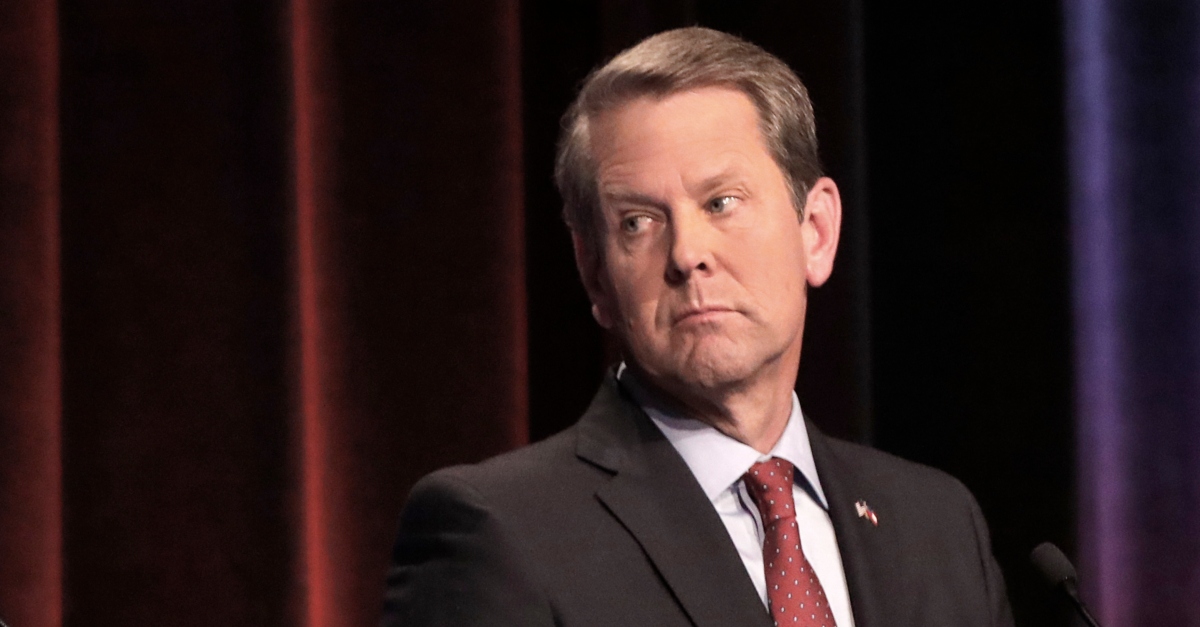 The Office of Georgia Secretary of State Brian Kemp, facing multiple claims of voter suppression, announced an investigation into the Democratic Party of Georgia over an alleged hacking attempt into the voter registration system.
"While we cannot comment on the specifics of an ongoing investigation, I can confirm that the Democratic Party of Georgia is under investigation for possible cyber crimes," said Press Secretary Candice Broce in a news release. "We can also confirm that no personal data was breached and our system remains secure."
The office of the Secretary of State said that the investigation started Saturday evening, and they told federal agencies like the Department of Homeland Security and Federal Bureau of Investigation about it.
It's unclear how local Democrats were supposedly linked to the alleged hacking attempt. Law&Crime asked a spokesperson over email for elaboration. In reply, however, we only got links to the original news release, and this follow-up statement: the Secretary of State's office said they opened the investigation after "receiving information from our legal team about failed efforts to breach the online voter registration system and My Voter Page. We are working with our private sector vendors and investigators to review data logs." They said they asked the Federal Bureau of Investigation to investigate what they called "possible cyber crimes," and they promised more information as it became available.
Rebecca DeHart, Executive Director of the Democratic Party of Georgia, called this a "political stunt" that showed why Kemp shouldn't be trusted, or overseeing an election where he is a governor.
"This is yet another example of abuse of power by an unethical Secretary of State," she wrote in a statement obtained Sunday morning by Law&Crime. "To be very clear, Brian Kemp's scurrilous claims are 100 percent false, and this so-called investigation was unknown to the Democratic Party of Georgia until a campaign operative in Kemp's official office released a statement this morning."
Abrams, appearing on CNN's State of the Union on Sunday, called the new investigation a "desperate attempt" by Kemp.
Stacey Abrams on Georgia Secretary of State's office opening an investigation into the Democratic party of Georgia for possible alleged cyber crimes: "This is a desperate attempt on the part of my opponent to distract people" #CNNSOTU pic.twitter.com/1nQEbVXpQo

— CNN (@CNN) November 4, 2018
A spokesperson from the FBI's Atlanta Field Office declined to comment.
"The State of Georgia has notified us of this issue," a DHS official told Law&Crime on background. "We defer to the State for further details."
This investigation comes at a pretty fraught time, so to speak. Kemp is running for governor against Democratic candidate Stacey Abrams, has refused to recuse himself in the event of a recount, and voiced concern about Abrams' campaign to mobilize voters. Meanwhile, his office faces claims of voter suppression, and hasn't been doing too well in court. U.S. District Court Judge Eleanor Ross ruled Friday that he must let over 3,000 new U.S. citizens vote in the upcoming midterm elections in spite of supposed problems with their citizenship. She voiced concern that the practice disproportionately affected a group that was "predominantly minorities." The Secretary of State's office has also faced a stiff court battle over its handling of absentee ballots.
Note: Updated with statement from the Democratic Party of Georgia, and the reply from the FBI. We also noted Abrams' response on State of the Union.
Note 2: We added an update from the Georgia Secretary of State.
Note 3: We added the response from a DHS official sent Nov. 5, 2018.
[Image via John Bazemore-Pool/Getty Images]
Have a tip we should know? [email protected]