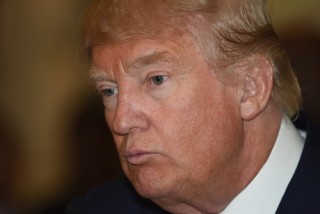 Donald Trump is continuing to refuse to release his taxes, telling The Associated Press, "There's nothing to learn from them." He reportedly said he would release them once an audit was completed which might not happen until after the November election. The presumptive Democratic nominee, Hillary Clinton, fired back at a rally in New Jersey.
"When you run for President, especially when you become the nominee, that is kind of expected. My husband and I have released 33 years of taxes returns," Clinton said. "So you've got to ask yourself, 'Why doesn't he want to release them?' Yeah, well, we are going to find out."
In February, Trump first balked at releasing his taxes. "I will absolutely give my return, but I'm being audited now for two or three years, so I can't do it until the audit is finished, obviously," Trump said on CNN during an earlier interview. Trump also said he can't release previous years because they are all intertwined together for the audit. While tax attorneys LawNewz.com spoke with contend there is nothing legally preventing him from releasing his taxes, most say it would not be advisable.
"Critics could pull certain items on the returns out of context and there would be political pressure on the IRS to scrutinize those items even if they ordinarily wouldn't be controversial," Robert Kovacev, a Washington D.C. based attorney, told LawNewz.com in an earlier interview.
The New York Times reports that Clinton and her husband have released annual tax returns since 1977.
[image via shutterstock]
Have a tip we should know? [email protected]
Rachel Stockman - President / On Air Host