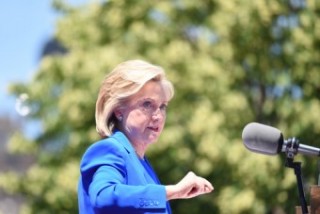 Four of Hillary Clinton's top aides have all hired the same Washington D.C. powerhouse attorney to represent them amid the continuing FBI probe into Clinton's private email server. According to Politico.com, Beth Wilkinson, a  former Assistant U.S. Attorney got the job. She will represent Clinton's former chief of staff Cheryl Mills, deputy chief of staff Jake Sullivan, Heather Samuelson, and Phillipe Reines.
When she was at the U.S. Attorney's office, Wilkinson successfully pushed for the execution of Oklahoma city bomber Timothy McVeigh. She is a Washington, D.C. based attorney at Wilkinson, Walsh & Eskovitz. Wilkinson just opened the boutique trial firm in January, and she appears to have scored a pretty high-profile first case.  Interestingly, she is married to CNN's political correspondent, David Gregory (former host of NBC's Meet the Press).
The FBI is investigating whether any classified information was mishandled when Clinton set up this private server. The four former Clinton staffers all regularly used the account to email back and forth with Clinton. Wilkinson's hiring comes following several reports that the FBI will start interviewing staffers, and Clinton herself. Investigators are said to be in the final stages of their  investigation. Legal experts believe the decision to use the same attorney may mean that the staffers are on the same page, and are unlikely to turn on each other.
[h/t Politico]
[image via shutterstock]
Have a tip we should know? [email protected]
Rachel Stockman - President / On Air Host