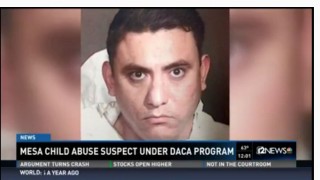 A 30-year-old Arizona man, arrested for sexually abusing a toddler,  was apparently granted legal status under President Obama's program which shields qualified undocumented immigrants from deportation.
U.S. Immigration and Customs Enforcement confirmed to KPNX on Wednesday that, upon learning of the arrest, an immigration hold has now been placed on Francisco Rios-Covarrubias until his criminal legal proceedings conclude.
Rios-Covarrubias was arrested after police found the young girl duct-taped, and covered in feces inside the man's closet. He is facing charges including suspicion of sex trafficking and sex with a minor.  A U.S. Department of Homeland Security spokesperson told the local station that approval in this program can be withdrawn at anytime.
Rios-Covarrubius gained his legal status through a controversial Obama administration program called Deferred Action for Childhood Arrivals (DACA) which allowed certain undocumented immigrants who arrived in the U.S. before their 16th birthday to receive a work permit, and exempts them from deportation. It is not clear when exactly Rios-Covarrubius was granted this status.
Hundreds of thousands of immigrants have been approved under this program since 2012. The program has come under fire from conservatives who believe it could open the door to amnesty.  Earlier this week, the U.S. Supreme Court agreed to review whether President Obama exceeded his executive authority by establishing DACA.
[h/t KPNX]
Have a tip we should know? [email protected]
Rachel Stockman - President / On Air Host