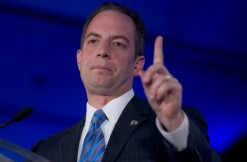 The Republican National Committee's rules committee decided not to change the rules on how presidential nominees are chosen in a convention without a clear winner (at least for now).
The committee met for less than an hour on Thursday, according to The Hill.
"We are basically in the seventh inning of the ball game and it's not right to change the rules of the ball game in the middle," Georgia committeeman and rules committee member Randy Evans said, according to The Hill. "This is a very hotly contested election and any change that we make will be viewed with a large degree of cynicism."
Most committee members backed RNC chairman Reince Priebus, who has resisted any changes.
The debate was over whether they'd change the rules to prevent the possibility that a "white knight" candidate would be introduced. This refers to an alternative candidate who hadn't been publicly campaigning up to this point. The rule change was suggested by Oregon committeeman Solomon Yue. The committee decided against moving forward with his proposal.
But this isn't over yet. The delegates at the convention have a final say on whether the rules will be altered. Changes could always come when the convention gets underway in July.
–
Follow Alberto Luperon on Twitter (@Alberto Luperon)
Have a tip we should know? [email protected]