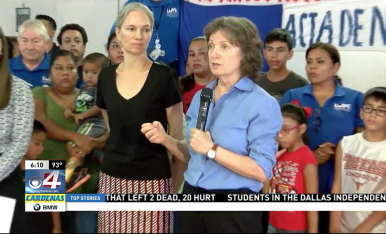 An agreement has reportedly been reached in a lawsuit against the state of Texas over its refusal to issue birth certificates to children born in the state to undocumented immigrants.
The Texas Tribune reports the agreement was reached during a mediation session.
WATCH:
In 2013, a lawsuit was filed against the Texas Department of State Health Services after it issued new identification requirements for parents to obtain birth certificates for their children.  The new requirements provided that counties could no longer accept foreign passports without a valid visa or Mexican consular IDs as valid forms of identification.  The lawsuit alleged these changes violated the constitutional rights of the children.
Under the agreement, Mexican consular IDs will still no longer be accepted as valid forms of identification.  However, Texas will reportedly expand the acceptable forms of identification to include Mexican voter ID cards that can now be obtained through the mail.   The state will also expand acceptable secondary forms of identification to include paycheck stubs and utility bills.  Parents from Central American countries will also now be able to obtain documents from their respective consulates as secondary forms of identification.
"This agreement will allow the state to continue to provide necessary birth certificates to authorized people and do so in a way that maintains the security of state birth records," health department spokesman Chris Van Deusen told the news outlet. "The purpose of the identification requirement is to ensure that individuals requesting birth certificates are who they say they are.
[image via screengrab]
Have a tip we should know? [email protected]