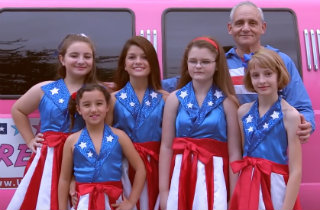 You may recall that back in January, a video from Donald Trump campaign rally in Pensacola, Florida went viral. In this case, it wasn't a wacky Trump comment, though. It was the hypnotically creepy performance of three of the five moppets who make up the USA Freedom Kids, who lip synced their song "Freedom's Call." Opening with the lyric "Cowardice, are you serious?" and including lines like "President Donald Trump knows how to make America great," it was just weird enough and just high profile enough to captivate the internet. But now? They're turning on Trump.
The Washington Post reports that Jeff Popick, the father of one of the Freedom Kids and the writer of "Freedom's Call," is planning to sue the Trump campaign for reneging on the promises he says they made to get the Freedom Kids to perform at the rally. According to Popick, he asked for a $2,500 appearance fee for the Pensacola rally, and the campaign countered by offering a free vendor's table to sell albums.
You can probably guess where this is going.
When Popick and the kids got there, it was "complete chaos" with no table. "They clearly had made no provisions for that," he told the Post. Subsequent attempts to get alternate compensation from the campaign turned up empty, and, as the Post put it, "he also lost several promotional opportunities due to confusion over his relationship with the campaign." His last effort to try to square up the deal by arranging a performance at last week's Republican National Convention, didn't go anywhere, and the Post provided Popick's emails to the campaign as proof.
The Trump campaign has not yet commented on these allegations.
[Image via VICE Media on YouTube]
Have a tip we should know? [email protected]