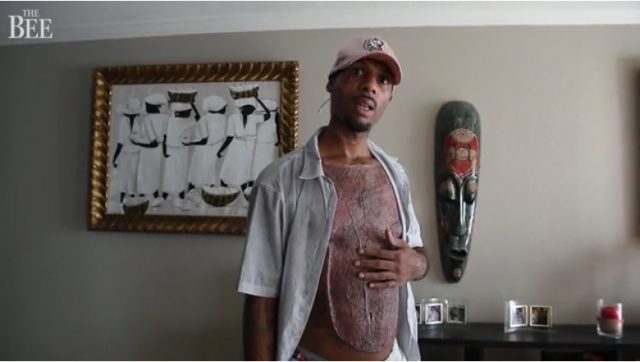 A mentally ill man whose flesh was seared from his body after California police held him against 170-degree pavement until his skin literally cooked away is now suing for $26 million.
James Bradford Nelson suffered extensive burns when multiple officers with the Citrus Heights Police Department pinned him to the ground in front of a Kentucky Fried Chicken on June 23, 2017.
Eight officers initially responded to a call complaining about a shirtless man behaving strangely, according to The Sacramento Bee. At least two of those officers ultimately held Nelson down against the pavement in excess of five minutes. Temperatures outside were over 100 degrees that day and the National Weather Service notes that human skin is "instantly destroyed" at 162 degrees.
Nelson's complaint notes:
During this time on the ground Nelson was screaming and yelling in excruciating pain. However, the officers forced his head down onto the hot pavement, leaning onto it with such force that Nelson could not move it for relief, exposing the right side of his face and neck to the scorching heat of the concrete.
Roughly 20 minutes later, Nelson was placed inside of an ambulance–unconscious due to the severity of the third-degree burns spanning the entirety of his chest and abdomen as well as large sections of his face and neck.
Nelson's claim also notes that he suffers from a host of mental health issues, including paranoid schizophrenia, and that such issues are "exacerbated in extreme conditions of weather." A video of Nelson's actions leading up to the incident shows him inside the KFC acting oddly before taking a swing at an employee. He was ultimately charged with a parole violation over his behavior.
The claim also notes that Nelson spent weeks in the UC Davis intenstive care burn unit where he went through skin-grafting procedures and had to receive liver and kidney failure treatment because of his injuries. In the end, Nelson was left with massive physical scars, post traumatic stress disorder and permanent disabilities, according to the claim.
Citrus Heights Police Chief Ronald Lawrence declined to comment on the lawsuit, but said the case is "something that will involve the judicial system, and will not be resolved in the court of public opinion."
The claim filed against the City of Citrus Heights notes that Nelson's medical bills as of last month had reached $1.8 million. The action also asserts an additional $25 million claim for "general damages" and an as-yet-unspecified demand for punitive damages against the officers who took part in the removal of Nelson's flesh.
Nelson is currently serving time in the Sacramento County Jail.
[image via screengrab/Sacramento Bee]
Have a tip we should know? [email protected]