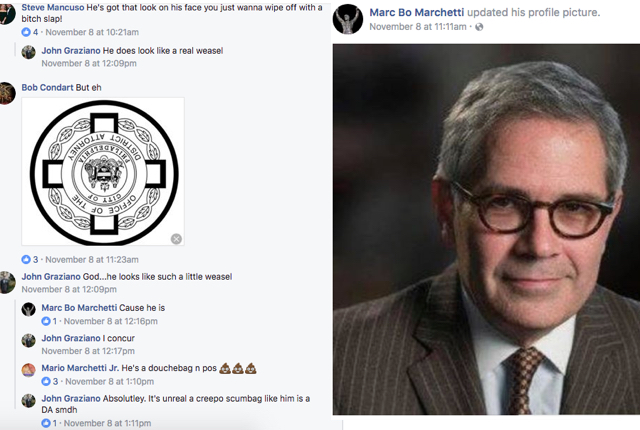 Multiple members of the Philadelphia Police Department recently wrote scathing, hateful and violent comments directed toward the city's newly-elected district attorney on social media.
In a Facebook post from November 8, Officer Marc Marchetti changed his profile photo to an image of Larry Krasner, Philadelphia's district attorney-elect. Marchetti then began a conversation with friends using the hashtag #notmyDA and discussion quickly spiraled into the realm of vulgar and abusive reaction.
Some of the comments on the thread were simply repetitions of the anti-Krasner hashtag–a retread of similar phrases used by liberals to delegitimize presidents George W. Bush and Donald Trump. Then, Officer Steve Mancuso chimed in to set the tenor of the resulting scene. He typed, of Krasner:
He's got that look on his face you just wanna wipe off with a bitch slap.
The comments devolved from there.
Officer John Graziano said, "God…he looks like such a little weasel." The original poster, Officer Marchetti responded, "Cause he is." Then, agreeing with his own statement, Graziano said, "I concur."
Another commenter, with the same last name as Officer Manchetti responded, "He's a douchebag n pos," followed by three poop emojis.
Officer Bob Condart replied, "But eh," and posted a reversed image of the Philadelphia District Attorney's Office logo–an apparent attempt to symbolize distress.
Krasner, a former civil rights attorney who has repeatedly sued the Philadelphia Police Department and who received the endorsement of Black Lives Matter, was overwhelmingly chosen by voters in the City of Brotherly Love in a landslide win where he secured 75 percent of the vote against his Republican challenger, Beth Grossman.
Krasner took the abuse in stride. His spokesman Ben Waxman said, in a statement:
Larry has said repeatedly that he is excited to work with the good officers of the Philadelphia Police Department, which he believes are the overwhelmingly majority. He already works closely with many in the department, including Commissioner Ross and the previous two commissioners. Larry also benefited during the campaign from the endorsement of the Guardian Civic League, an organization of African American police officers. He looks forward to working with the PPD and other law enforcement agencies to ensure the fair application of justice for all people.
LawNewz reached out to the Philadelphia Police Department for reaction to the officers' comments, but no response was forthcoming at the time of publication.
[image via screengrab]
Follow Colin Kalmbacher on Twitter: @colinkalmbacher
Have a tip we should know? [email protected]