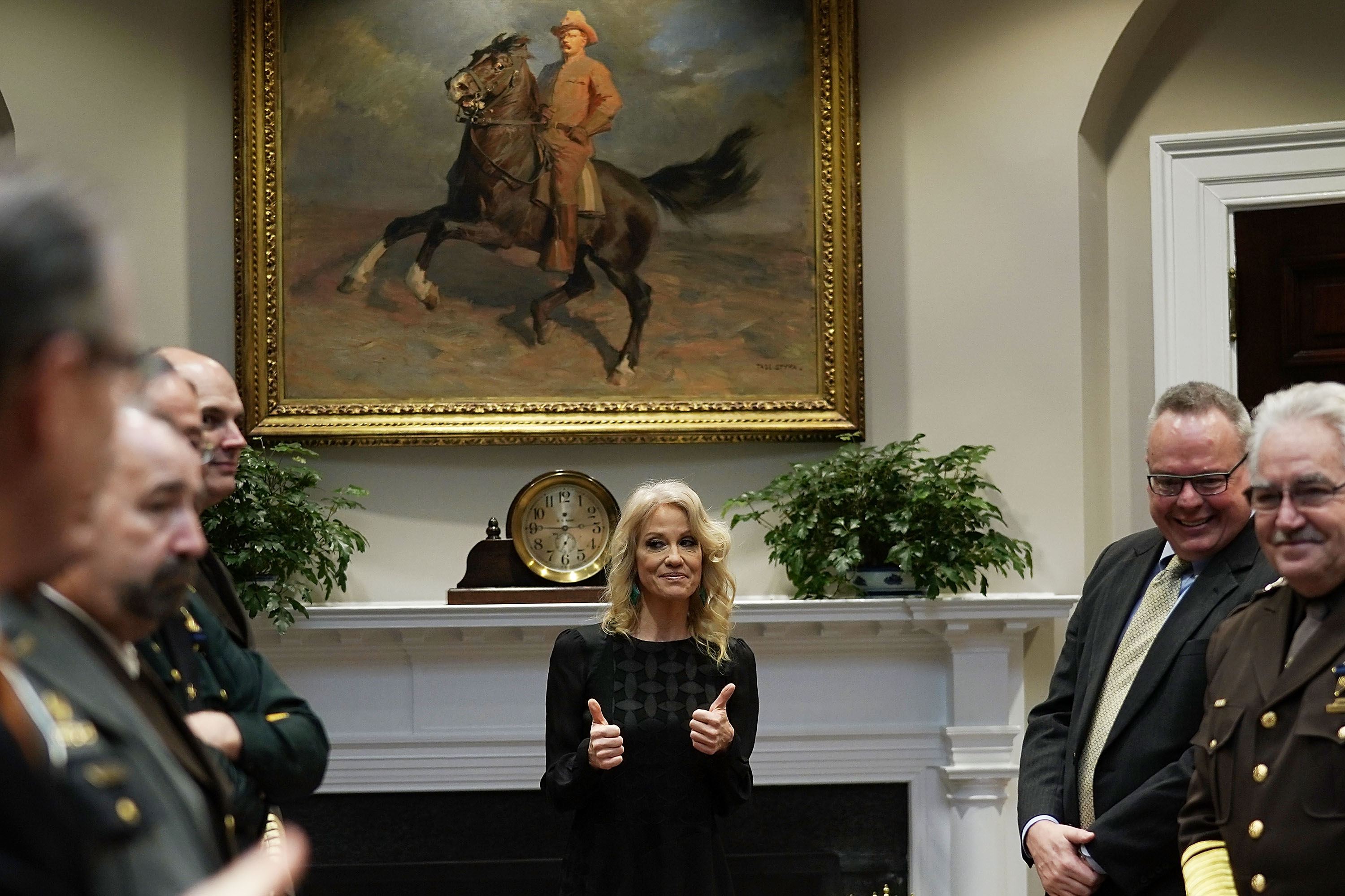 Kellyanne Conway was found to have violated the Hatch Act on two separate occasions, according Office of Special Counsel, an independent investigative agency.
The White House has already issued a statement contesting Tuesday's finding by Henry Kerner.
Additionally, Campaign Legal Center, the organization which filed the initial complaints against Conway, is urging Trump to punish her–but in emails provided to Law&Crime, officials there were not optimistic about Conway's forthcoming (lack of) punishment.
Here's the rub: the possibility of nothing at all happening to Conway is both likely and perfectly legal.
According to Kerner's Office of Special Counsel ("OSC"), Conway impermissibly opined on the December 2017 special election between Democrat Doug Jones and alleged child molester Republican Roy Moore.
During a November 20 appearance on Fox & Friends, Conway said:
Doug Jones in Alabama, folks, don't be fooled. He will be a vote against tax cuts. He is weak on crime. Weak on borders. He's strong on raising your taxes. He is terrible for property owners. I just want everybody to know Doug Jones, nobody ever says his name and pretends he is some kind of conservative Democrat in Alabama. And he's not.
President Donald Trump's official counselor was also dinged for comments during an appearance on CNN's New Day, according to the OSC report. But, again, don't expect much in the way of punishment.
Officially titled, "An Act to Prevent Pernicious Political Activities," the Hatch Act was originally passed in 1939. Codified at 5 U.S.C. §7323, it reads, in relevant part:
an employee may not— (1) use his official authority or influence for the purpose of interfering with or affecting the result of an election
The OSC's report notes, "While the Hatch Act allows federal employees to express their views about candidates and political issues as private citizens, it restricts employees from using their official government positions for partisan political purposes, including by trying to influence partisan elections."
Conway's comments, therefore, were determined to have been made for the purpose of interfering with the December special election in the Yellowhammer State. Furthermore, Conway was introduced with her official title, "counselor to the president," when she made the offending comments and never once attempted to clarify whether she was speaking in her personal or official capacity.
The Hatch Act does allow federal employees "to make partisan remarks when speaking in their personal capacity."
So, here's the official list of penalties theoretically in store for Conway [emphasis added]:
An employee or individual who violates section 7323 or 7324 shall be subject to removal, reduction in grade, debarment from Federal employment for a period not to exceed 5 years, suspension, reprimand, or an assessment of a civil penalty not to exceed $1,000.
However, here's the problem it is up to Trump to take action.  Additionally, it's not hard to imagine a scenario wherein Trump makes a big deal out of assessing a civil penalty for $1 and then makes a big show of paying the penalty himself while extolling the virtues of Free Speech in a rambling diatribe where he casually sexualizes the First Amendment and rails against Conway's political persecution while slamming the entire concept of Ethics and fires Harry Kerner for doing his job.
In fact, if any political crisis occurs within the next 24 hours, expect exactly the above sort of pageantry.
Why does Trump have such non-punishment punishment options available to him? Well, it's all in the statute. And, there's also some very telling (and very recent) precedent.
In 2016, Barack Obama's Housing and Urban Development ("HUD") Secretary Julián Castro made comments rising to the level of impermissible political advocacy under the Hatch Act by advocating for Hillary Clinton during the presidential election. Here's the official letter announcing the determination by then-OSC head Carolyn Lerner. And here's what Lerner wrote, in part:
Secretary Castro's statements during the [Yahoo News] interview impermissibly mixed his personal political views with official agency business despite his efforts to clarify that some answers were being given in his personal capacity.
So, what was Castro's penalty? Nothing at all.
Expect Trump to follow suit here. And if the president's trolling instincts are extremely on point today, he might even say, "Thanks, Obama."
[image via Alex Wong/Getty Images]
Follow Colin Kalmbacher on Twitter: @colinkalmbacher
Editor's note: Law&Crime predicted this exact outcome late last year in an article titled "Here's Why Conway Definitely Violated Federal Law By Slamming Roy Moore's Opponent."
This is an opinion piece. The views expressed in this article are those of just the author.