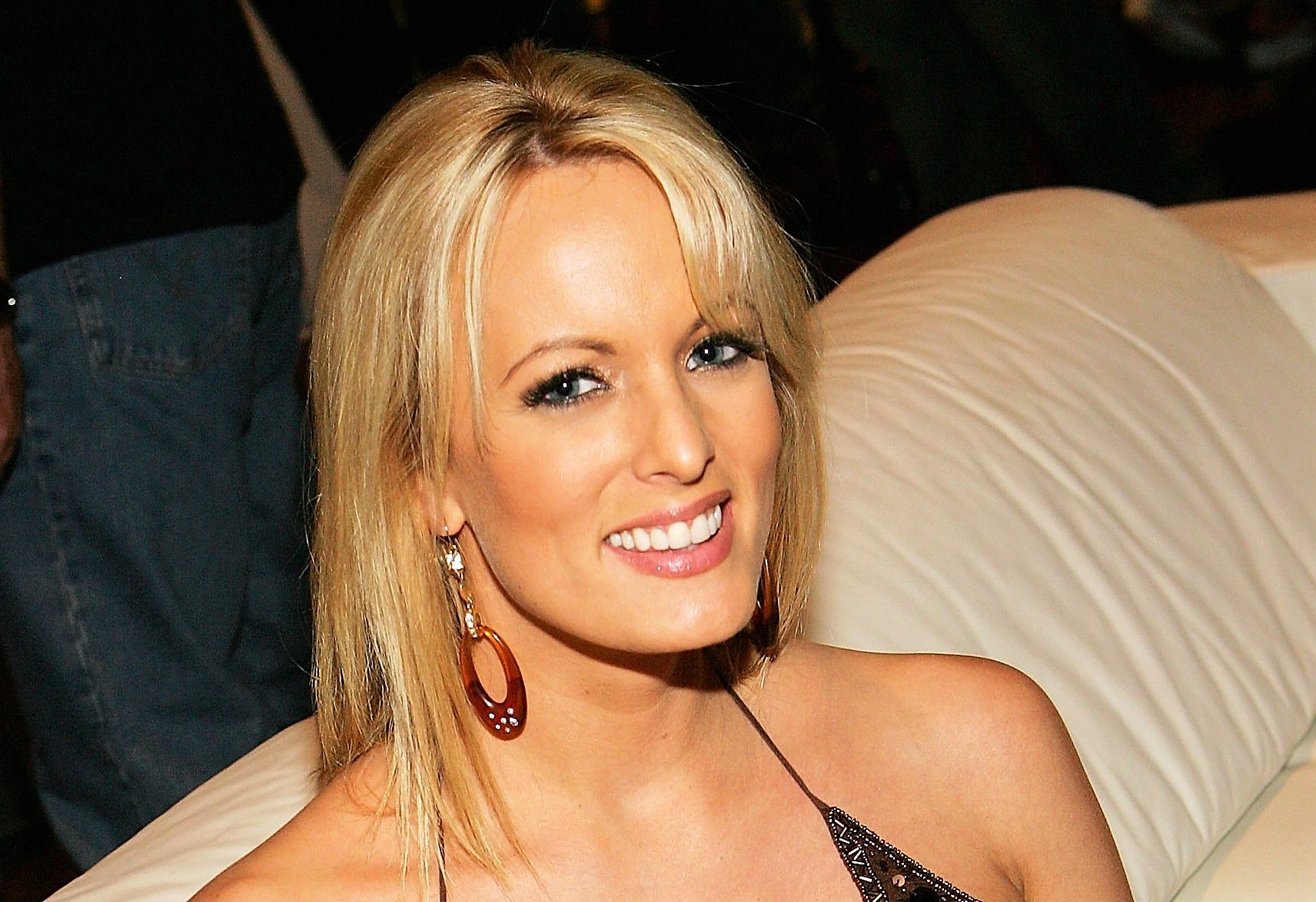 There's more legal drama on the horizon between Donald Trump and Stephanie Clifford (a/k/a Stormy Daniels), and now it's threatening to progress into some Pentagon Papers-level stuff.
Trump lawyers are considering legal action to stop '60 Minutes' from airing an interview with Stormy Daniels, BuzzFeed News has learned.

"We understand from well placed sources they are preparing to file for a legal injunction to prevent it from airing." https://t.co/h5QQSnnEDJ

— Kyle Griffin (@kylegriffin1) March 11, 2018
BuzzFeed News reported this weekend that sources close to the Trump legal team reported that plans are in the works to file for an immediate injunction to stop CBS from airing the 60 Minutes interview with Anderson Cooper and Stephanie Clifford.
@michaelavenatti@StormyDaniels @andersoncooper@60minutes pic.twitter.com/U3pf6DHEaf

— Michael Avenatti (@MichaelAvenatti) March 8, 2018
During media requests for comment, Michael Cohen, Trump's go-to lawyer, passed the buck to attorney Larry Rosen, who did not comment directly on the possibility of near-term litigation.
Such a lawsuit would likely be for a temporary restraining order ("TRO") – a court order that would restrain CBS from airing the interview, usually until such time as a longer, more involved lawsuit could settle the underlying legal issues in play. Could Trump or Cohen be successful in getting a court to grant such a TRO? Not without upending the First Amendment and decades of Constitutional history.
In normal circumstances, TROs are liberally granted when a party can prove two things: 1) that they are likely to win the underlying lawsuit; and 2) that they will suffer irreparable harm if the order is not issued. There's definitely a bit of a problem on proving likelihood of success on the merits, because CBS isn't a party to any underlying lawsuit. Trump's lawyers could attempt some crafty legal maneuvering here, but it would require some serious legal acrobatics to convince a court that the nondisclosure agreement between Stormy Daniels/Stephanie Clifford and Donald Trump/David Dennison/Michael Cohen should be grounds for a court order against CBS.
Trump's people would probably also advance the argument that the president would suffer irreparable harm to his reputation if the interview airs. In most scenarios (like when we're not talking about the current president), it wouldn't be all that difficult to convince a judge that a major TV interview has potential to cause such harm; however, in this case, the Stormy Daniels story is already so well-known, and Trump's reputation is already so tarnished by other things (the Access Hollywood tape, the many claims of sexual assault, the Karen McDougal interview, just to name a few) that "irreparable harm" seems a bit of a dramatization.
The most glaring legal problem, though, is that silencing the media from reporting on a hush-money contract between the president and a porn star would offend the First Amendment in a pretty serious way.  This is pretty textbook freedom-of-the-press stuff.  Prior restraint — court-ordered restriction of speech — is not thrown around lightly.  In 1971, the Supreme Court of the United States ruled in the Pentagon Papers case that the The New York Times and The Washington Post could publish classified documents relating to the Vietnam War without being subject to government censorship or punishment.  These publications came over an objection by President Nixon, who attempted to use his executive authority to stifle the press in the interest of national defense.  Let's be clear: if Nixon couldn't muzzle the press on the basis of national security, Donald Trump sure as hell isn't going to be able to do so because a porn star could make him look bad.
Law & Crime contacted well-known media law expert, George Freeman.  Mr. Freeman was assistant General Counsel of The New York Times Company, chair of the American Bar Association's Litigation Section's First Amendment and Media Litigation Committee, and a professor at NYU School of Journalism. He pointed out the diametric opposition between the purpose of the First Amendment and a Trump lawsuit seeking to prevent the 60 Minutes interview for airing:
"The Supreme Court has said that a prior restraint is the most unfavored step one could take against speech. That is because [such action] contradicts the exact words of the First Amendment. Indeed, this situation is even more unlikely to result in a prior restraint; here, unlike some other NDA cases, it is Government asking for the restraint, and the Bill of Rights is all about freedom from the government." 
Some folks have suggested that Trump's position against CBS isn't a total loser based on past precedent:
Before you say, "No way, a judge would never agree to a prior restraint," realize that one did last year and it was JUST argued a few days ago at an appeals ct. Hell, I even used a hush contact in my example of implications. See: https://t.co/lpm4iUK1qF https://t.co/JiHV71pIa5

— Eriq Gardner (@eriqgardner) March 11, 2018
As Eriq Gardner explained, this isn't the first time courts have addressed the question of third-party consequences to nondisclosure agreements.
Last year, a federal in New York enjoined a production company from making a movie about the band Lynyrd Skynyrd. The band's former drummer, Artimus Pyle, contributed to the project despite having signed an agreement promising never to profit from telling the story of the band, two of whose members had been killed in a plane crash. Although the production company had not been a party to the original agreement, the court issued an injunction that prevented release of the movie. That case was appealed, and was just argued a few days ago.  However, that case involved a commercial production company and a movie about a rock band — not a major media outlet and the current commander in chief. Not to downplay the allure of great Southern rock, but it's safe to say there's quite a bit more public interest in the Stormy Daniels interview than there could ever be in a docudrama about a 40-year old band.  Plus, there's a pretty good chance the District Court's ruling is going to be overturned on appeal.
Law & Crime spoke with Floyd Abrams, the well-known First Amendment attorney who represented the New York Times in the Pentagon Papers case (and also the father of Law & Crime's founder Dan Abrams.  Mr Abrams said:
"It's one thing for a judge to bar the making of a film in which the individual breaching his agreement not to disclose certain matters is a co-producer entitled to 5% of net receipts. That's the Pyle Case.  It's quite something else to bar a fully independent third-party news organization—CBS—from broadcasting newsworthy information obtained from someone who has signed an NDA. If the Trump-related side were foolhardy enough to bring that case, I believe there would be two results: a judicial ruling that under the First Amendment the prior restraint sought against CBS could not and would not be issued, and a marked increase in the amount of people who watched Sixty Minutes to find out just what it is that Stormy Daniels has to say."
In an argument that seems pretty prescient right now, an amicus brief filed by the Reporters Committee for Freedom of the Press and 13 media organizations in the appeal for the Pyle case warned:
"Now we know we were right to worry… With this ruling, we have reached the bottom of the slippery slope: Accurate speech about real people is not protected by the First Amendment."
The bottom of the slippery slope is quite right, and no court in the world is going to ignore the gravity of a Trump request to silence the media.  Although the content of the 60 Minutes interview may be nothing more than sordid details, the potential for precedent extends much farther than fetishes and pillow talk.  Americans have always accepted that the fundamental purpose of the First Amendment was to prevent government restraints against both individuals and the press.  So now we have a sitting president potentially asking a court to revisit the entire purpose of the First Amendment because of what a porn star may have said about her affair with him.  Nothing could be more 2018.
This is an opinion piece. The views expressed in this article are those of just the author.
Elura Nanos - CEO, Lawyer Up; Columnist & Host, Law & Crime