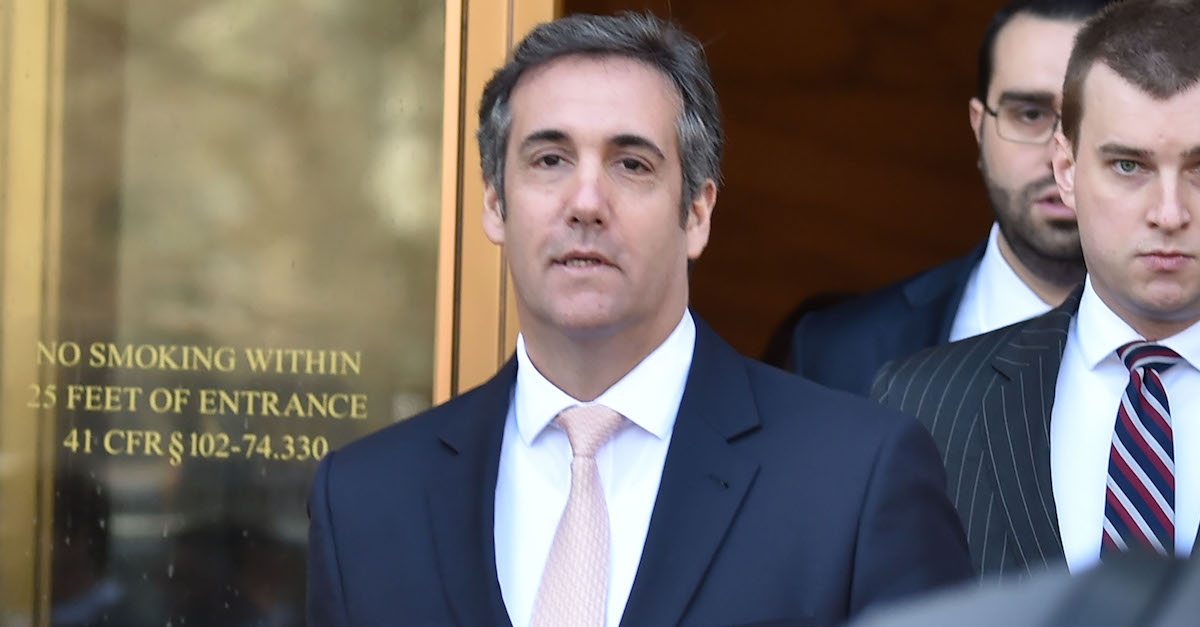 Michael Cohen suffered a loss in his legal battle against Stormy Daniels on Tuesday, but some key words in the judge's ruling show that better days may be on the horizon. Cohen had tried to get Judge S. James Otero to issue a gag order to keep Daniels' attorney Michael Avenatti from publicly discussing him or Daniels' case.
The judge shot him down, basically saying that the matter of whether or not the arbitration clause in Daniels' hush agreement is enforceable just isn't worthy of such a measure. The judge didn't forget about Daniels' defamation claim against Cohen, though, and that's where he wrote this line:
The sole cause of action asserted against Mr. Cohen in his personal capacity is a claim for defamation, which must survive Defendant's Motion to Strike and many other hurdles before a trial can even be contemplated.
The judge appears to be saying, "Yes, Mr. Cohen, I know you're being accused of defamation and you don't want the other side to bash you on television, but we both know that claim is going nowhere."
Judge Otero didn't just say that a trial is a long way off. He mentioned that there are a number of "hurdles" that block its path. Since he's the one who will be ruling on those hurdles, one can guess that he's already thinking that Daniels' claim won't survive them.
It's not surprising, since the defamation claim is by far the weakest part of Daniels' case. Her argument that the case shouldn't go to arbitration is a pretty strong one, and will likely win. Her ultimate claim against whether the hush agreement itself is enforceable could go either way. The defamation claim is just nonsense.
To recap: Daniels claims that Cohen made a false and defamatory statement on February 13, 2018, when he defended his reason for supposedly paying Daniels' $130,000 out of his own pocket.
"Just because something isn't true doesn't mean that it can't cause you harm or damage. I will always protect Mr. Trump," Cohen told reporters.
In order to prove a defamation case, a plaintiff has to show that a particular statement is false and damaging to the person. When Cohen said that something can harm you even if it's not true, that was not a false statement. On its face, it wasn't even damaging to Daniels, because it didn't mention her. While it was referring to her, it was really meant to explain the $130,000 payment. It's highly unlikely that a judge would rule against Cohen on this one.
Ironically, the part where he says, "I will always protect Mr. Trump," may be the only false part about the statement, in light of recent developments. But that's another story.
[Image via HECTOR RETAMAL/AFP/Getty Images]
This is an opinion piece. The views expressed in this article are those of just the author.