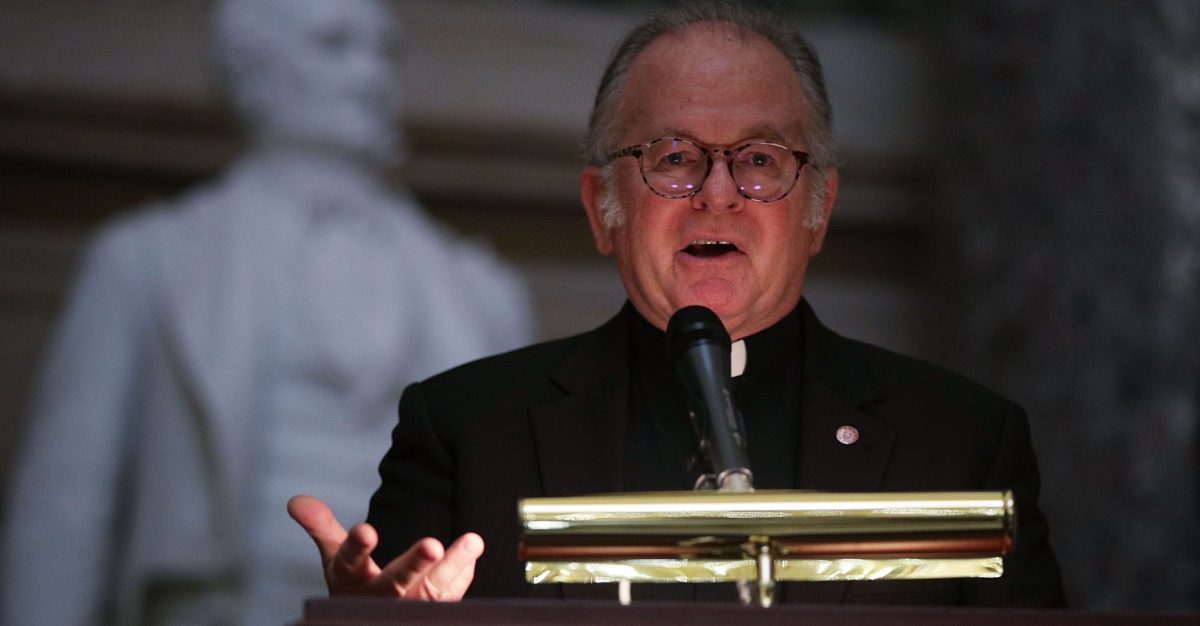 If you're going to start drama with a priest, you'd better make damn sure that you have the moral high ground. Paul Ryan apparently didn't get that memo, and now he just squandered whatever character capital he'd amassed by announcing that he'd forego reelection so that he could be an attentive dad.
Two weeks ago, Father Patrick Conroy, who'd served as the House Chaplain since 2011, resigned. That was NBD until news broke last night that Conroy's "resignation" sounded a lot more like a "firing" at the hands of House Speaker Paul Ryan.
Right now, conflicting stories are going around.
Source tells me, too, that Conroy's sudden resignation was driven, at least in part, by a prayer on the tax bill that Paul Ryan didn't like.

Here's Conroy's last prayer on the tax bill. He wishes for no "winners and losers" under the bill. 😐 pic.twitter.com/W79d7Ipxbe

— Jennifer Bendery (@jbendery) April 26, 2018
Democratic Representative Gerry Connolly told Politico, "He was fired. I talked to the chaplain directly."
Politico also reported on an email Conroy had sent to a friend saying:
I had no intentions of leaving…I doubt that anything will change Ryan's mind, but I think it important that Members know the truth.
Ouch. It's never a good thing when a priest starts schooling you on transparency. [Sidebar: Father Conroy happens to also be an attorney. Shortly after becoming ordained, he received a law degree and represented tribal members in state courts, as well as Salvadoran refugees.]
At one point, Ryan's spokeswoman passed the buck to Minority Leader Nancy Pelosi, saying, "The speaker told Leader Pelosi that he would not move forward with the decision if she objected and she chose not to," but at another point, said that the reported take on Conroy's firing was, "not only false but outrageous." Mmmm okay.
Maybe it's just me, but in the factual battle between "I was fired," versus, "You resigned," I'm going with Father Conroy. That brings up the question of why he was fired.
For that, we need to back up to November 6, 2017, when the House was poised to pass the Tax Bill, Conroy delivered the daily opening prayer, and said:
May all members be mindful that the institutions and structures of our great nation guarantee the opportunities that have allowed some to achieve great success, while others continue to struggle. May their efforts these days guarantee that there are not winners and losers under new tax laws, but benefits balanced and shared by all Americans.
Shortly thereafter, according to Conroy, "A [Ryan] staffer came down and said, 'We are upset with this prayer; you are getting too political. It suggests to me that there are members who have talked to him about being upset with that prayer.'"
That was followed up with this reported conversation between the Speaker and the Chaplain:
Ryan: "Padre, you just got to stay out of politics."

Conroy: "That is what I have tried to do for seven years. It doesn't sound political to me. If you are hospital chaplain, you are going to pray about health. If you are a chaplain of Congress, you are going to pray about what Congress is doing."
Senior GOP aides have denied that the prayer was the motivating factor for Conroy's premature departure.
Patrick Conroy succeeded Rev. Daniel Coughlin – who had been the first Catholic House Chaplain — in 2011, following Coughlin's retirement.
Democrats on Capitol Hill are freaking out over Conroy's firing, many remarking that Ryan's decision appears motivated by a distaste for Conroy's very Catholic take on the tax bill. Twitter sure seems to agree.
I hope Catholic voters can see this anti Catholic move by @GOP/@SpeakerRyan The chaplain says Ryan told him he was 2 political. Religious #GOP congressmen want 2 replace him with married pastor with children. #Catholic @DNC #Congress https://t.co/fQEsBQ4zpI

— Yolanda (@JesyQ) April 27, 2018
Wow. Paul Ryan fires House Chaplain and Catholic Priest for praying before tax bill that they "try not to have winners and losers."

Makes sense: Ryan is no Catholic. He prays at the alter of Ayn Rand.

— Jud Lounsbury (@JudLounsbury) April 27, 2018
Ryan too, is a Roman Catholic — not that this would be the first time that two Catholics disagreed.
'Father Conroy's resignation is all the more contentious in Catholic circles because Mr. Ryan is a Catholic conservative, whereas Father Conroy is a Jesuit, a branch that is viewed by some as more liberal." https://t.co/IkD7mZRoT7

— Patrick LaForge (@palafo) April 27, 2018
[Image via Aleex Wong/Getty Images]
This is an opinion piece. The views expressed in this article are those of just the author.
Elura Nanos - Columnist & Trial Analyst, Law & Crime; CEO Lawyer Up