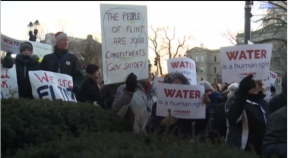 What's good for the goose is good for the gander: unless you're in Flint, and that good is clean water. It was January 2015, and Flint residents were growing increasingly worried about whether the town's water supply was safe to drink. While residents floundered in fear, their loathing was quelled by the reassurances of government officials.
As Flint's denizens wrestled with the "to drink, or not to drink" quagmire, state officials were simultaneously arranging coolers of purified water for the employees of Flint's State Office Building. Why? So the employees would not have to drink the tap water of course! According to state government emails released by Progress Michigan, a non-profit organization for "uncompromised progressive politics," state workers received purified water in their building months before state government and Michigan Governor Rick Snyder acknowledged there was a a latent crisis bubbling in Flint.
The Jan. 7, 2015, notice from Michigan's Department of Technology, Management and Budget alludes to the arrival of the water and the option to drink it, "The coolers will arrive today and will be provided as long as the public water does not meet treatment requirements."
Dave Murray, a spokesman for Governor Snyder claims the water placed in the state building was for both employees and residents and that no signs prohibited the public from drinking the water. That's besides the point. While the state government purported the water to be safe, a higher standard and the luxury of choice was only provided to government officials. That's the thing, the people of Flint were not given a choice.
"I had no knowledge of that taking place," Snyder said Friday.
The coolers were made available following announcements by Flint officials which warned residents of elevated levels of trihalomethane, a potential carcinogen, in the industrial city's water.  Flint continued to send mixed messages to residents. The same notices which declared the water to be in violation of the Safe Water Drinking Act informed Flint residents it was safe to drink.
Emergency state management switched Flint's water source from the Detroit municipal system to corrosive Flint River water in April 2014. The switch was made to save money. The water supply of the city is now contaminated with lead creating a grave public health concern for children, adults and the elderly alike.
President Obama has declared a federal state of emergency in Flint.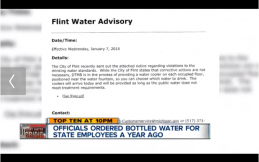 [h/t Detroit Free Press/AP]
This is an opinion piece. The views expressed in this article are those of just the author.