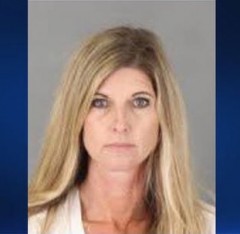 A high school teacher, who resigned her position as an earth science teacher at Murrieta Valley High School almost two months ago, appeared in court on Friday where she stands accused of three felonies related to accusations that she had a sexual relationship with one of her students.
Shannon Fosgett, 44, pleaded not guilty to one count of unlawful sexual intercourse with a minor under 18 and two counts of oral copulation with a minor, all felonies, according to a statement from the Riverside County D.A.'s Office.
Fosgett was arrested on December 4th on suspicion of having an inappropriate relationship with an underage make student at the high school after authorities received a tip and began interviewing the male minor student thought to be involved.
The male student told investigators that he believed the teacher had been taking an interest in him for over a year and they would text back and forth after hours.  Eventually, according to a police report, the relationship grew and the minor and teacher engaged in oral sex and sexual intercourse.
Fosgett was released from custody on the day of her arrest and was not required to post monetary bond before leaving court today.  She is due back in court on March 7.
[h/t KTLA]
Have a tip we should know? [email protected]