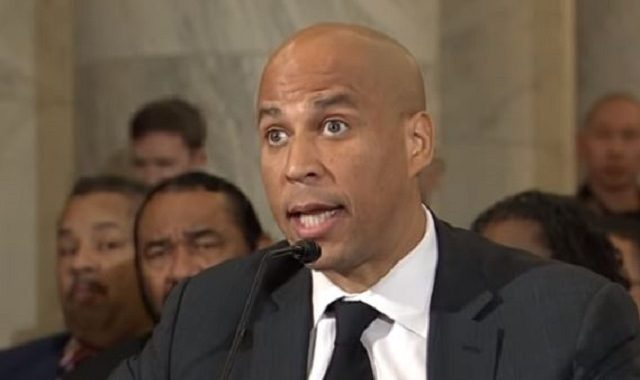 I'm really trying to keep my cool here. We are dealing with a presidential administration that seems to be destroying things at home while embarrassing us abroad at nearly every possible opportunity. We know Bernie will never reach the Oval Office, no matter how cute the slogans are, and we are sick to death of being reminded about how Hillary Clinton was the most predictable loser since Justin Guarini. But we had Cory Booker. We did. I know we did. He has been our calming Twitter salve that soothes our rage-wounds after Trump's maniacal misspelled 4AM rants. And now, I fear we've lost Booker.
Let me catch you up, in case you're still recovering from a weekend of patriotic-themed cocktails. Last Thursday, it was widely reported that Jared Kushner, the son-in-law and senior advisor to President Donald Trump asked Russian Ambassador Sergey Kislyak what he thought of setting up a secret communications channel between the Trump transition team and Moscow to discuss strategy in Syria. Such a conversation would have been bad enough if it had happened once Jared was officially FSILOTUS, but this little tête-à-tête  apparently happened in December. Not a good look for Kushner.
Once the story broke, immediately, predictably, and – I'll say it — justifiably, the Democratic National Committee (DNC) called for Kushner's security clearance to be suspended while this whole Russia thing is worked out. Was the cry from the Dems political? Of course it was. Does that make it wrong? Not even in the remotest possible way, it doesn't. Look, I get that Jared Kushner makes up half of a nepotism sandwich that conspicuously lacks purpose, qualification, or even the appearance of integrity. There's no question that Dems would love any excuse to throw Kushner out on his ass. But in this Kislyak-Kushner drama, we really do have the mother of all reasons to revoke Kushner's clearance altogether. Asking for a temporary suspension seems like a pretty moderate response. I mean it's not like Jared Kushner is such a critical piece of our governmental infrastructure that we can't operate a day without him at the epicenter of American intelligence. He can sit out for a bit while we check WTF is going on between him and Kislyak.
And yet, despite this, Cory Booker – heir-apparent to HRC – is out there breaking with the DNC and urging us to go easy on Kushner. Booker told CNN:
"I think we need to first get to the bottom of it, he needs to answer for what was happening at the time," Booker replied. "It raises very serious concerns for me. And that could be a potential outcome that I seek, but I want to understand, at least hear from Jared Kushner, as well as the administration, about what was exactly going on there."
.@CoryBooker disagrees with the DNC: he thinks it's too soon to revoke Jared Kushner's security clearance. #CNNsotu https://t.co/JV4P1SDJjd

— Jake Tapper (@jaketapper) May 28, 2017
As much as I would love to chalk Booker's leniency up to a level-headed sense of due process, I'm distracted by the $41,000 the Kushner family gave to Booker for his Senate run and the $20,000 they gave to his mayoral campaign. And it's not even just money – they're buddies too. Booker was a guest at Ivanka and Jared's wedding in 2009. While campaign contributions and wedding invitations don't definitely prove that Booker is biased, things sure don't look good for our hero.
Cory Booker wants to wait before stripping Jared Kushner of security clearance. Why? Maybe it has to do with this. https://t.co/T7udiBpBLG

— Bob Braun (@BobBraunsLedger) May 29, 2017
Since Hillary Clinton's defeat, more than a few hopes have rested on a 2020 White House run by Booker. He's a scandal-free North- Easterner with good politics, a smooth public image, and an inspiring political resume. He's a Rhodes Scholar, a philanthropist, and a natural leader. The fact that he's of mixed race (his grandfather was white) is also a nice bonus for the campaign trail. But in a world in which true believers can't even wear Ivanka Trump shoes, public leniency for Kushner is anything but a wise move for Booker. One commenter in a progressive Facebook group said it best:

Sigh. I guess we'll have to file this one under "P" for "politicians," "predictable, " and "pathetic."
[Image of Corey Booker via CSPAN screengrab; Facebook post used with permission from user]
This is an opinion piece. The views expressed in this article are those of just the author.
Elura Nanos - CEO, Lawyer Up; Columnist & Host, Law & Crime