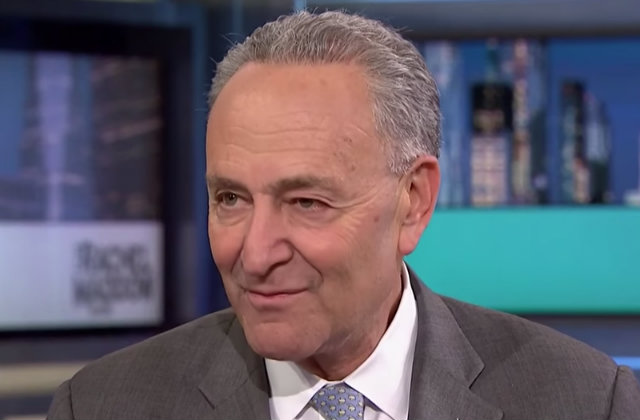 I have to admit, while I often see great value in allowing market forces to function on their own, I kind of like Chuck Schumer in the role of Cindy Lou Who. Schumer is now leading the charge against "Grinch-bots" by advocating the expansion of a 2016 Congressional Act aimed at protecting consumers. Here's how it works: So-called "Grinch-bots" are computer programs that comb the web to find the season's hottest toy buys, gobble them up, and allow individuals to re-sell them at wildly inflated prices. And I really mean wildly inflated prices. We're talking $15 Fingerlings for $1000, and $79 Nintendo systems for $13,000. Kinda makes that whole Cabbage Patch Kid thing seem reasonable.
Schumer went on record saying, "Grinch bots cannot be allowed to steal Christmas, or dollars, from the wallets of New Yorkers." While this issue isn't going to get solved before we carve this year's roast beast, we may see some relief before next year's holiday shopping begins. In December 2016, President Barack Obama signed the Better Online Ticket Sales ("BOTS" –cute, right?) Act, which Schumer sponsored. The act prohibits online ticket scalping as follows:
"it shall be unlawful for any person—

A) to circumvent a security measure, access control system, or other technological control or measure on an Internet website or online service that is used by the ticket issuer to enforce posted event ticket purchasing limits or to maintain the integrity of posted online ticket purchasing order rules…"
Now, Senator Schumer is advocating the expansion of BOTS to include similar scalping of consumer products. The technology to be prohibited by such an expansion is complex; it discovers a toy's online ID, and automates bulk buys before consumers are able to complete their own direct purchases.
National Retail Federation Senior Vice President for Government Relations David French told Newsday:
"we look forward to working with [Schumer] and all interested parties to strengthen enforcement against organized retail crime and take away the tools being used against innocent consumers, particularly during the holiday season."
Law&Crime will keep you updated as BOTS expansion attempts continue. While banning "Grinch-bots" seems like a no-brainer, there are plenty of voting members of Congress with hearts two sizes too small. Until then, those closed out of Fingerlings or Hatchimals might want to start reading up on the part where Christmas "came without ribbons. It came without tags. It came without packages, boxes or bags."
[Screengrab via MSNBC]
This is an opinion piece. The views expressed in this article are those of just the author.
Elura Nanos - Columnist & Trial Analyst, Law & Crime; CEO Lawyer Up