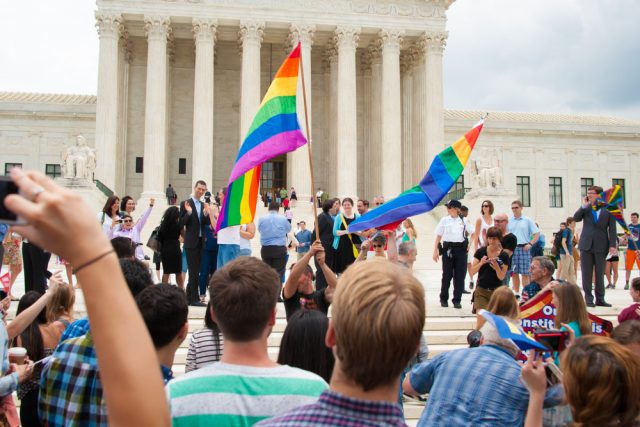 The Trump administration today argued that bakers should be allowed to advertise that they discriminate against same-sex couples.
The stunning admission was made by Solicitor General Noel Francisco after a question posed by Justice Anthony Kennedy during oral arguments in front of the Supreme Court over the Masterpiece Cakeshop v. Colorado Civil Rights Commission case.
In response to questioning on the subject of public accommodation laws potentially taking precedent over Free Speech interests, Francisco argued that a baker could place a sign in his window that says his bakery does not provide custom-made cakes for same-sex couples.
The Trump administration's underlying argument here is that custom-made cakes–as opposed to pre-made cakes–require speech by the baker.
Under Supreme Court precedent on the First Amendment, the government cannot compel speech. That proposition was originally found in the U.S. Constitution by way of the West Virginia State Board of Education v. Barnette case–which was brought by Jehovah's Witnesses who refused to stand for the pledge of allegiance.
The State of Colorado and attorneys for the gay couple involved in the Masterpiece Cakeshop case have argued that cake-baking is actually not a form of speech, but rather simply the provision of a business service.
The discussion on custom-made cakes is interesting but not likely to be ultimately decisive here because the baker in the present case, Jack Phillips, did not base his original anti-gay position on potentially being compelled to provide a custom-made cake for same-sex newlyweds. In truth, Phillips and his bakery simply turned the gay couple away.
After Francisco claimed bakers could advertise their discrimination against same-sex couples viz. custom cake-baking, Justice Sonia Sotomayor ripped into him.
She rattled off a list of discriminatory treatment against gay people and then went on to note that public accommodation laws stand for the idea that civic community standards demand people not be denied service on the basis of their race, gender or religion–all of which are firm Constitutional principles endorsed by Supreme Court jurisprudence.
Sotomayor then said the same non-discrimination concept applies to sexual orientation as well.
Francisco disagreed.
[image via Shutterstock.com]
Follow Colin Kalmbacher on Twitter: @colinkalmbacher
Have a tip we should know? [email protected]