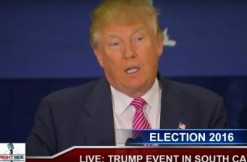 So somebody allegedly wrote "#trump2016" on a Mexican-American student's whiteboard at Scripps College, and it got her and the student president rankled. The College Fix estimated that it happened late Friday or early Saturday. In any case, this set off MinJoo Kim, the student president at the women's college, who released a statement saying the whiteboard, which had been hung from the alleged victim's dorm door, had been "vandalized."
"The racist act is completely unacceptable," she said. "Regardless of your political party, this intentional violence committed directly to a student of color proves to be another testament that racism continues to be an undeniable problem and alarming threat on our campuses."
She said college police had been notified, and that "we hope to find the person responsible so they can be held accountable for their actions. This is not the inclusive, safe and welcoming community that we have been striving so hard to create."
"Mental and emotional health of our students are our top concern," she added. She went onto recommend students use campus resources for the sake of support and mental health.
You can read the full statement here:
SMH. @ScrippsCollege, are you trying to be the next Emory?! pic.twitter.com/bPObz6BOOs

— Hannah Oh (@hannahoh16) March 26, 2016
Director of Campus Safety Stan Skipworth told LawNewz.com that there's no new information at this time, though the incident is still under investigation. He confirmed that the whiteboard was available for other students to write on.
Okay, there is so much to unpack here. A lot of the grumpiness over this story is going to have be about the president's use of the word "violence" to describe something that isn't a physical attack. As divisive as he is, the mere use of the Trump hashtag isn't violence. No explicit threat was written. No assault was reported. A criminal charge would not stick unless some new development popped up.
But compare this to a similar instance at Emory University. Students there held a recent protest over someone chalking Donald Trump's name across campus. Again, no explicit acts of violence were reported, though the kids were still rankled.
"I'm supposed to feel comfortable and safe," one student told The Emory Wheel. "But this man is being supported by students on our campus and our administration shows that they, by their silence, support it as well … I don't deserve to feel afraid at my school."
Such a response had TV show host Bill Maher say that he wanted "to dropkick these kids."
Ha, fair enough. The Emory students had a severe overreaction, though they're lawfully exercising their freedom of speech. It seems like their "suspect" was just a Trump fan. Big deal. Fans write their candidate's name on chalk on college campuses. That's what they do.
It's different in the Scripps case. Trump's name was written on a Mexican-American student's whiteboard. Not a white person. Remember, this is a candidate who called Mexican immigrants "rapists." So was writing his name on a whiteboard violence? Not if you use a dictionary. It certainly isn't a brick to the head. But the motive of the alleged scribbler remains mysterious, so the president's weariness about this could be justified.
[h/t The College Fix]
[image of Trump via Right Side screengrab]
–
Follow Alberto Luperon on Twitter (@Alberto Luperon)
This is an opinion piece. The views expressed in this article are those of just the author.