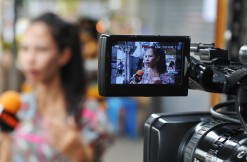 These are some reporters you will want to follow to get the latest, most breaking law and crime stories around the country. They have a sharp eye for unique articles, and often retweet other great accounts. These 10 reporters and commentators are yours to follow on Twitter. Leave a comment if you think we left anyone out.
Stephanie K. Baer, @skbaer
This Los Angeles reporter is all over Twitter, and a great resource for info: the many, many shootings in Chicago; the virus outbreaks surrounding Chipotle. Plus, she sometimes tweets about sports and such.
The sheriff's department pony is too cute #RoseParade #Pasadena #LASD

— Stephanie K. Baer (@skbaer) January 1, 2016
Sarah Bloomquist, @sarahbloomquist
Bloomquist, an anchor and reporter in Philadelphia, is great about sharing crazy crime stories. She tweets at a steady pace, and is worth checking out.
VIDEO: Buddhist monk buying lotto tickets tries to stop gas station robber https://t.co/7M5vIkVeuZ

— sarahbloomquist (@sarahbloomquist) January 11, 2016
Megan Cassidy, @meganrcassidy
This Arizona Republic reporter covers the Phoenix Police Department. And believe us, you always want a crime reporter who can feel shock, no matter how long they've been on the beat.
Good god @phoenixpolice: Beaten man had ear ripped off https://t.co/CXIhp1Uc9K via @rettmitch

— Megan Cassidy (@meganrcassidy) January 9, 2016
Jim Douglas, @wfaajdouglas
Douglas, of WFAA in Texas, caught the bail hearing of the Affluenza mom Tonya Couch.
Couch's attorneys just rested. Tonya's son said she might have 100,000 in acct locked by gov't, but nothing else. pic.twitter.com/o3Mrtj35Mh

— Jim Douglas WFAA (@wfaajdouglas) January 11, 2016
Justin George, @justingeorge
This reporter from the Baltimore Sun sends a steady stream of Tweets. You might know him from his coverage of Freddie Gray's death, and the tense, ongoing aftermath.
Exclusive: Inside #Baltimore police's investigation of the death of #FreddieGray. #LongReads http://t.co/RG3ILSVbXL pic.twitter.com/GwSiMxCkX2

— Justin George (@justingeorge) October 10, 2015
This is an opinion piece. The views expressed in this article are those of just the author.