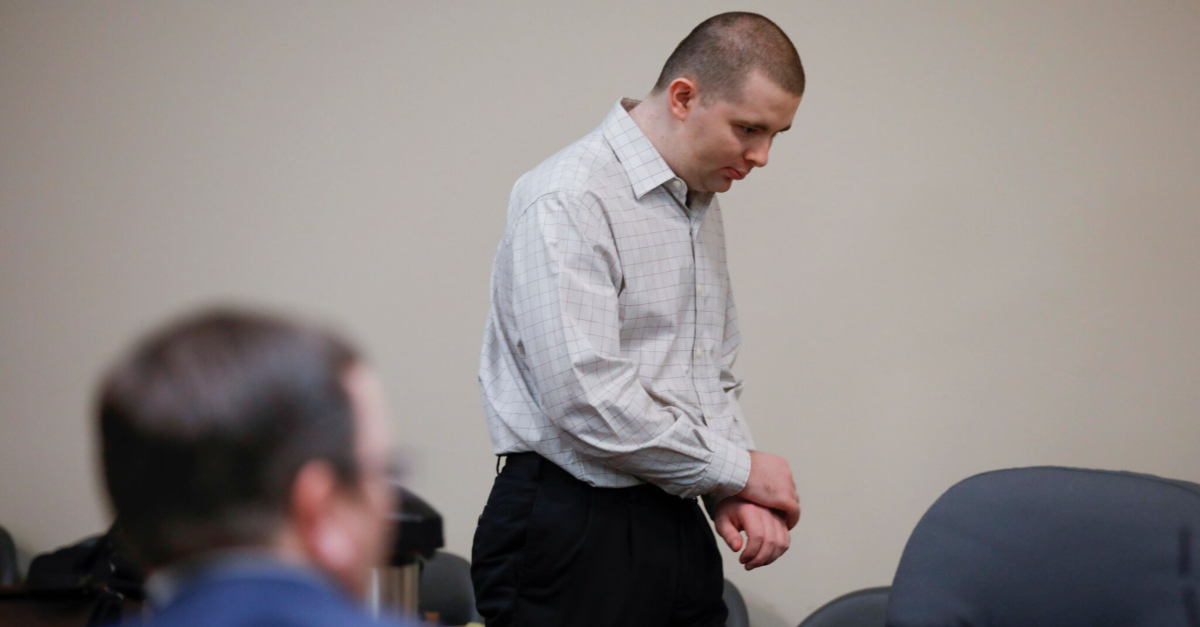 Jurors in Greene County, Missouri found Nicholas Godejohn guilty of first-degree murder in the 2015 stabbing death of "Dee Dee" Blanchard. The question was never whether he'd be convicted. The question was which charge. Jurors were allowed to consider first-degree murder, second-degree murder, and involuntary manslaughter.
Even his defense admitted that their client killed Blanchard at the request of the victim's daughter Gypsy Blanchard, but they insisted that he shouldn't be held responsible for first-degree murder because he was incapable of deliberation. In closing arguments on Friday, lawyer Dewayne Perry said that evidence showed that the defendant had a low IQ of 77, close to the learning disability benchmark of 70. Prosecutors, however, argued that text messages between Godejohn and Gypsy, and the defendant's videotaped confession to a detective indicated that he displayed plenty of deliberation.
Gypsy Blanchard testified on Thursday. She alleged that her mother forced her into a wheelchair, and made her fake serious conditions (eg. cancer and muscular dystrophy) in order to cheat charities out of money. She claimed she attempted to runaway in 2011, but Dee Dee caught her, smashed her computer and cell phone, chained her to a bed, and withheld food from her. According to this testimony, Dee Dee said she would never let Gypsy date or get married.
Blanchard said she met Godejohn in 2012 on a Christian dating website, and that he quickly learned she didn't need a wheelchair. Then in May 2014, Gypsy, amid Dee Dee's escalating abuse, suggested the idea of killing her mother. During closing arguments, both sides acknowledged evidence that the couple explored other ways to keep Godejohn in his girlfriend's life: introducing him to Dee Dee, and getting Gypsy pregnant. Both plans fell through. In any case, the state used this timeline against him. During closing arguments, Assistant Nathan Chapman said it established that that the defendant had over a year to deliberate on the killing.
He and Greene County Prosecuting Attorney Dan Patterson pointed out evidence showing that Godejohn chose the method of killing Dee Dee Blanchard, and asked questions about whether she was a light sleeper or not, and whether the floor squeaked. Chapman described the defendant as becoming excited as the day of the murder approached.
Perry insisted that Gypsy drove the plot. Chapman said Godejohn willingly participated in the killing. Perry argued Gypsy manipulated her boyfriend. Chapman said that manipulation required deception, and Gypsy never lied. Perry said the defendant "was only trying to help the woman he loved" Patterson said that Godejohn just wanted a "sex slave."
"Was Gypsy mistreated? Absolutely," Chapman said. "Is the defendant some knight that's coming into save her? Let's be real."
The prosecutor pointed to text messages and the confession video, and said that Godejohn never once mentioned that he was rescuing Gypsy. Instead, this evidence showed the defendant shaping his girlfriend's appearance, and instructing her to be naked after the killing.
"It's not as simple as the prosecutor just told you," said Perry, who spoke after Chapman.
If there's anything that both sides explicitly agreed on, it's that Dee Dee Blanchard should've been the one facing trial for abusing Gypsy, and that Godejohn did the wrong thing by killing her.
Have a tip we should know? [email protected]