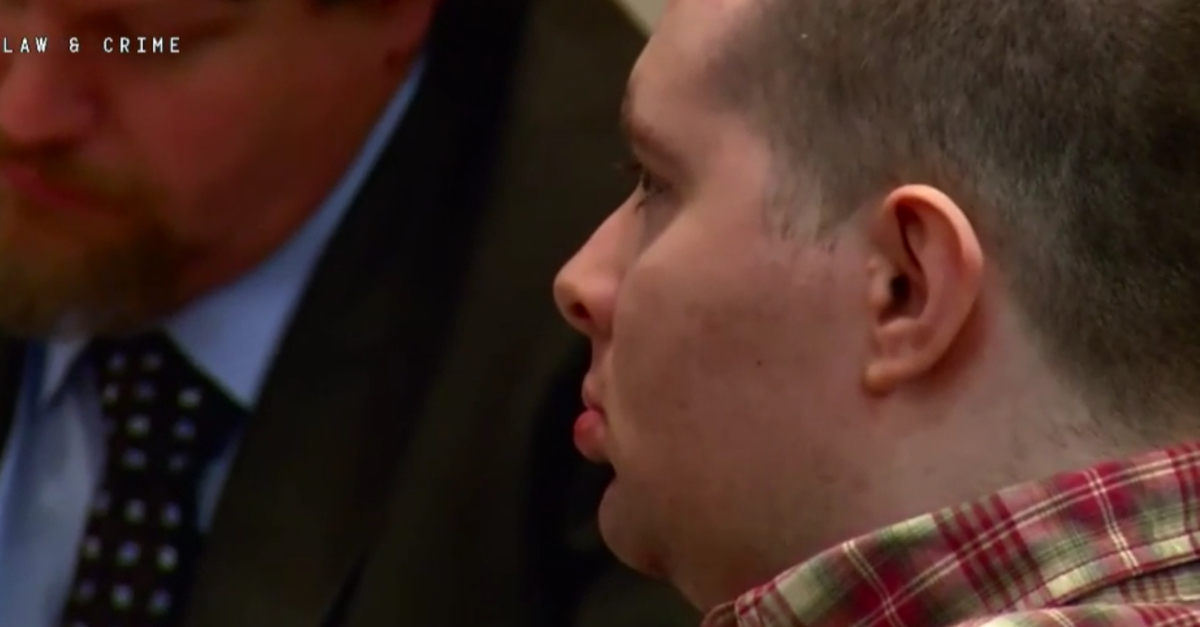 Jury deliberations didn't take long in the murder trial of 29-year-old Nicholas Godejohn.
Prosecutors said he acted with deliberation in the 2015 stabbing death of 48-year-old Clauddinnea "Dee Dee" Blanchard. Godejohn's defense argued that he shouldn't be convicted of first-degree murder. Their client is on the autism spectrum, had a low IQ, and wasn't able to truly reflect on his actions, they said. Accordingly, they argued that jurors should only convict him of a lesser crime. Jurors were allowed to consider first-degree murder, second-degree murder, and involuntary manslaughter.
They decided he was guilty of first-degree murder.
Closing arguments on Friday hit on two key questions: Did the defendant deliberate? and Was he "manipulated" by the victim's daughter Gypsy Blanchard?
Even the defense acknowledged that their client killed the victim. Evidence in the trial established that in May 2014, his long-distance girlfriend Gypsy Blanchard, 27, brought up the idea of killing her mother. (She pleaded guilty to second-degree murder in this incident in 2016.)
Blanchard claimed Dee Dee physically abused her, and forced her to fake serious conditions in order to cheat charities out of money. The victim told her that she would never be allowed to date, or get married, Gypsy testified on Thursday. Blanchard said she tried to run away in 2011, but Dee Dee chained her to a bed, smashed her computer and cell phone, and withheld food. She said she met Godejohn in 2012 on a Christian dating website.
From May 2014 to the killing on June 10, 2015, she and Godejohn discussed other ways to stay together. This included introducing him to Dee Dee, and getting Gypsy pregnant. Both ideas fell through.
Godejohn's confession video, Gypsy's testimony,and other evidence established that the defendant flew over from Wisconsin to Missouri on his girlfriend's dime, stayed over at a Days Inn, and came over to her house. She gave him blue latex gloves, and a knife (which she admittedly stole from Walmart). Then, while Dee Dee was sleeping on her stomach, Godejohn entered the victim's bedroom, straddled her, and stabbed her 17 times in the back. Gypsy stayed in the bathroom while this happened.
Defense lawyer Dewayne Perry disputed none of this in his closing argument on Friday, but he insisted that his client was unable to deliberate on the crime.
"This whole thing comes back to Gypsy's determination to do whatever it took–Plan A, plan B, plan C–to do whatever it took to get out of that home," he said.
Perry described both Godejohn and Blanchard as "childlike." He said evidence showed the defendant had a 77 IQ, close to the intellectual disability baseline of 70. As for Gypsy, her mother had forced her to live as a 16-year-old even though she was 23.
The attorney said she "manipulated this case in so many ways." He argued that Blanchard planned most of it, paid for everything, got the gloves, and stole the knife. It was her decision to move up the date of the killing because Godejohn was about to run out of money, he said.
He singled out a number of "childlike" decisions in their plot. For example, Gypsy testified that she believed the other people would forget about her. The couple took cabs to and from the scene of the crime. They stayed in a hotel under their real names. They mailed the murder weapon to Godejohn's Wisconsin home with Gypsy's return address.
"A real killer [with the capacity to deliberate] would've been a whole lot more smart," Perry said.
The defendant "was only trying to help the woman he loved," he argued, but added this didn't happen the right way.
Assistant Prosecuting Attorney Nathan Chapman dismissed any notion that Godejohn did it for Gypsy.
"Was Gypsy mistreated? Absolutely," he said in his closing argument. "Is the defendant some knight that's coming in to save her? Let's be real."
He argued that in text messages and the confession video, Godejohn never once mentioned he was rescuing Gypsy. Instead, evidence showed him shaping her appearance, and instructing her to be naked after the murder.
Greene County Prosecuting Attorney Dan Patterson, who presented the state's rebuttal, said that as in indicated in the text messages, Godejohn wanted a "sex slave." He cited the confession video, in which the defendant discuss having sex with Gypsy after the killing.
"Obviously, I was in charge," Godejohn said. Patterson said this matched Gypsy's testimony about the encounter. He noted this detail from Blanchard's testimony: That she told mid-way to stop having sex, but he didn't stop.
Chapman attempted to circumscribe Gypsy's role in the murder. He acknowledged that she "is absolutely a part of this case," but argued that had nothing to do with Godejohn's guilt. Nothing in the jury instructions mentions whether she helped plan the murder. Neither did the instructions mention the victim's character.
"We didn't forget it," he said. "It's not missing. It's because when it comes to the defendant's guilt, it doesn't matter. All that matters is what the defendant did on June 10, 2015."
He established a distinction between collaboration and manipulation. Gypsy asked Godejohn to kill Dee Dee, but the defendant said yes. Manipulation requires deception, Chapman argued.
"Gypsy asked in the least manipulative way because she didn't lie at all," he said. "She put it all out there."
It was the defendant's decision to play a role in the killing, the state said. Evidence–including Facebook messages, texts, the confession tape, and Gypsy's testimony–showed that Godejohn was not made to do anything he didn't want to do. The defendant agreed to to the plot, and got really into it, Chapman said. Evidence indicated that he deliberated on the killing even up to the actual incident, because he admitted to cutting Dee Dee so that she would bleed more, the state argued.
Both prosecutors mentioned a jailhouse interview Godejohn gave to a reporter.
"There were two thoughts that came to my mind," Godejohn said in tape shown to jurors. "One was a benevolent thought, and the other was a malevolent thought. It was almost like having a devil on one shoulder, and an angel on the other."
The benevolent thought told him to take Gypsy and run. The malevolent thought told him they could get away with killing Dee Dee, and that "this bitch is dead."
Here's how Chapman presented this detail to jurors:  "No amount of mild autism, level 1 Asperger's syndrome, changes the fact that you heard him describe it in his own words, that he chose–'the bitch is dead."
[Image via Law&Crime Network]
Have a tip we should know? [email protected]