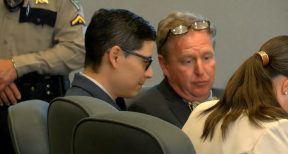 A New Mexico jury has reportedly deadlocked in the second trial of former sheriff's deputy Tai Chan, with the judge declaring a mistrial. Chan was accused of first-degree murder.
That decision was announced just moments ago from a courtroom in Las Cruces.
Chan is a former Santa Fe County Sheriff's deputy.  He was accused of murdering his partner, Jeremy Martin, in October 2014.
Chan had already faced one trial surrounding his partner's death.  The first trial also ended with a hung jury and, therefore, a mistrial.
Martin was Chan's partner during a long-distance prisoner transport assignment.  Chan's usual partner was out.  Martin volunteered for the assignment.
After dropping the prisoner off in Arizona, Chan and Martin stopped in Las Cruces to spend the night.  They hit a number of area bars.  Several of Chan's relatives and friends in the area joined the men.
Martin and Chan alternated between being friendly and making fun of and upsetting one another, the friends testified.
Chan and Martin both became heavily intoxicated.  Testimony from prosecution expert Dr. Nika Aljinovic revealed Martin's blood alcohol level was .102 at the time of his death.  His vitreous alcohol level was .119.  The eye holds alcohol longer than the blood stream, she explained.  Indeed, the friends who joined Martin and Chan drinking that night testified that at some point, Martin stopped drinking alcohol and started drinking water.
Meanwhile, Dr. Cecile A. Marczinski, a psychologist with expertise in psychopharmacology, testified that she believes Chan's blood alcohol content was probably around .24, three times the legal driving limit of .08, and was within a range of .21 and .27 at the time of the shooting.
Chan took the stand in both his first and second trials.  He claimed Martin pointed a gun at him and threatened to kill him.  Chan claims he managed to get his hands on the gun and then started shooting.
Martin was shot five times in the back.  Chan chased him from the hotel room into the hallway and continued firing as he moved, prosecutors said.
Chan claims the shooting itself was fuzzy.  He doesn't remember much after he got the gun.
This is a breaking news story.  We will update it as more details become available.  
[Screengrab via LawNewz stream]
Have a tip we should know? [email protected]
Aaron Keller - Deputy Editor-in-Chief