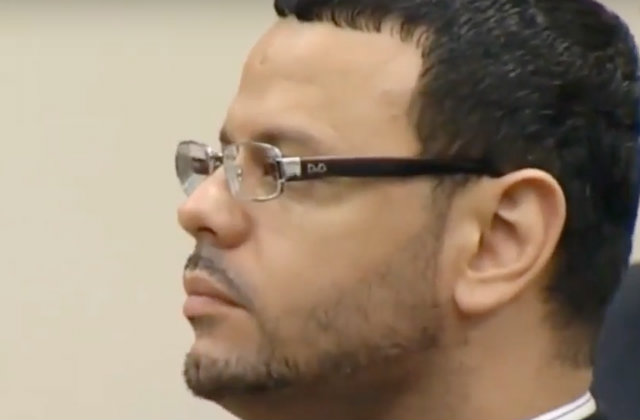 Both sides made closing arguments Thursday in the Florida murder trial of Luis Alberto Toledo. Prosecutors say he killed his wife and her children on Oct. 23, 2013, and that he successfully hid the bodies. Does the state have enough evidence to reach a conviction on all three deaths? Did the defense do enough to get a not guilty verdict on all counts or, failing that, save Toledo from execution? The defendant faces a second-degree murder charge for killing Yessenia Suarez and two first-degree murder charges for killing 8-year-old Michael Otto and 9-year-old Thalia Otto. There's also a count of tampering with physical evidence. He will face the death penalty if convicted of first-degree murder for the children's deaths. The judge is allowing the jury to consider several lesser-included offenses.
Prosecutor Mark Johnson began the closing arguments in St. Augustine, Florida. He told jurors Toledo killed Suarez because she cheated on him. Then, he argued, the defendant killed the children so there would be no witnesses. The state based that claim on an interrogation of Toledo.
Suarez previously told Toledo on Oct. 15, 2013, that she was going to divorce him, so he installed spyware on her phone, Johnson said. This led to an alleged domestic violence incident at Suarez's workplace. Police said Toledo slapped Suarez after reading texts between Suarez and one of her co-workers. Suarez and the co-worker were planning tryst that afternoon, the messages revealed.
Johnson said the last person to make contact with Suarez shortly after 1:00 a.m. on Oct. 23 was her male co-worker — the man with whom she had an affair. He talked with her briefly on the phone. Suarez was not heard from after about 1:15 a.m. or 1:20 a.m. on Oct. 23rd.
Testimony showed that Toledo asked neighbor Tyshawn Jackson to help move his car, Johnson said. Thereafter, the defendant tried to hide evidence by wiping down Suarez's Honda Accord, throwing the children's personal items and a blood-stained trunk mat into a dumpster, and later throwing a knife out of his car
Toledo admitted to throwing away that knife, Johnson said.
The prosecutor acknowledged that the bodies were never found, but argued the victims are definitely dead. In the four years since the alleged murders, Suarez never contacted family members, despite being very close with them. Also, her financial records showed no changes since then. No witnesses have since seen Yessenia or her children. The wife's car, purse, and personal items were left behind. The children's personal items were left behind. Testimony showed that the children last attended school on Oct. 22.
Toledo's actions showed a "guilty mind," Johnson argued. The defendant changed his story a lot under investigation. For instance, Toledo told investigators that he invited Jackson to his home at 3 a.m. to play video games, leading Suarez to getting mad.
"It doesn't make sense whatsoever," Johnson said.
Toledo had previously told different stories.
Johnson also pointed out that Volusia County Sheriff's Department Sgt. Kurt Schoeps testified that Toledo said, "I will never tell you where the bodies are."
As for the children, their deaths are definitely first degree murder, Johnson argued. After killing their mother, Toledo had a moment to make a conscious plan to end their lives.
"He had the opportunity to reflect on that," Johnson said.
When it was his turn for closing, defense lawyer Jeffrey Deen said that proof of death was not proof that Toledo committed murder. The defendant's knife wasn't evidence because the state couldn't prove why he threw it out.
"It's just an ugly knife that he threw out of his car," Deen said.
Deen showed jurors interview footage in which Toledo admitted killing Suarez with a blow to the neck after claiming she attacked him. The defendant also continued to blame the children's murders on Jackson, the neighbor.
The state didn't have enough evidence, Deen argued. For example, investigators didn't know when the deaths precisely occurred. Toledo supposedly hid the bodies alone, and cleaned the house in a handful of hours, but Deen suggested that this was too much for Toledo to do by himself.
As for Schoeps' claim that Toledo said he'd never reveal the location of the bodies, Deen pointed out that this was never recorded, and investigators never brought it up again later when they were being recorded.
Toledo may have had the motive to kill someone, but that is not proof of intent.
"What is the point of this? I'm asking. They have to tell you," Deen said, referring to the state's burden of proof.
Deliberations are scheduled to start Friday. Stay with LawNewz.com and the LawNewz Network for continuing coverage of the trial.
Aaron Keller contributed to this article.
[Screengrab via Luis Toledo]
Have a tip we should know? [email protected]