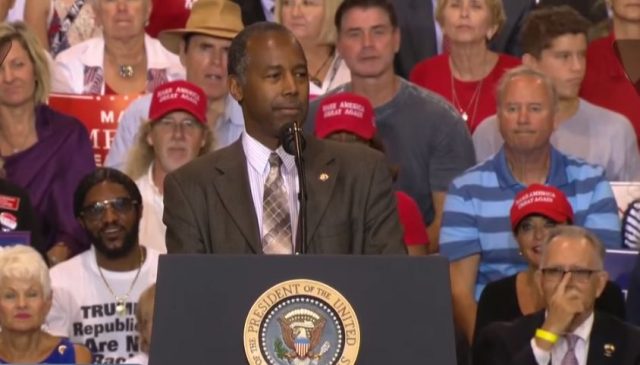 The Trump administration claims that records of Ben Carson's publicly-funded travel are not a matter of public interest.
In a denial of a Freedom of Information Act ("FOIA") fee waiver request lodged with the Department of Housing and Urban Development ("HUD"), HUD Executive Secretary Helen Foster and the department's Assistant General Counsel John Shumway categorized those travel records as not rising to the level of public interest and disagreed that the "requested records would contribute 'significantly' to public understanding of HUD activities and how the agency operates."
The request was initiated by Anne L. Weismann, chief counsel for Citizens for Responsibility and Ethics in Washington ("CREW"), a non-profit, non-partisan watchdog focused on preserving and promoting governmental ethics and accountability. CREW's main activities include exposing official corruption committed by federal politicians.
On September 20, 2017, Weismann made her initial request, "for records concerning authorization for and the costs of HUD Secretary Ben Carson's use of non-commercial aircraft for any official travel since his confirmation on March 2. [sic] 2017."
Weismann's request also included, "all such authorizations Secretary Carson or anyone acting on behalf of Secretary Carson sought, regardless of whether such authorization was granted." Additionally, Weismann requested "records sufficient to show the amount of money budgeted for Secretary Carson's travel, whether on a yearly or fiscal basis, for 2017 and 2018, and the amount budgeted for the Secretary's travel for 2016."
Weismann argued that her "request concerns operations or activities of the government, as it seeks documents pertaining to whether Secretary Carson, like other agency heads in this Administration, is using non-commercial aircraft to travel for official HUD business…[and that] the disclosure is likely to contribute to the public's understanding of Secretary Carson's travel and the extent to which he used taxpayer funds to finance travel on government or private aircraft at costs that far exceed commercial rates."
Carson's HUD apparently disagreed with that reasoning.
In a brief explanation of the denial, Foster and Shumway said that Weismann's argument "does not satisfy" certain FOIA criteria, "and is conclusory." Somewhat ironically, the letter of denial was a bit conclusory itself–as it did not state what Weismann would specifically have to do in order show that Carson's travel records are a genuine matter of public interest.
HUD's denial stands to bring additional–and perhaps unwanted–spotlight on Carson's flight records. Health and Human Services Secretary Tom Price was recently forced to resign over his use of chartered flights on the public dime.
[image via screengrab]
Follow Colin Kalmbacher on Twitter: @colinkalmbacher
Have a tip we should know? [email protected]