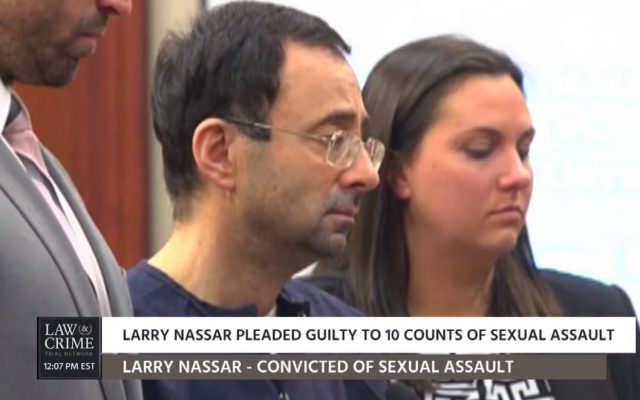 Former USA Gymnastics and Michigan State University doctor Larry Nassar was sentenced to 40-175 years in prison for first-degree criminal sexual assault. Nassar pleaded guilty to seven counts of the charge in Ingham County, but during his sentencing hearing, Judge Rosemarie Aquilina allowed more than 150 women and girls who accused Nassar of sexual abuse deliver victim impact statements.
Survivors included gymnasts who went to Nassar for treatment at MSU, as well as those who competed for USA Gymnastics, including several Olympians. They discussed how over the course of decades, Nassar sexually assaulted them under the guise of medical treatment. Many were not even aware at the time that Nassar was acting improperly. In some cases, the girls' parents were in the room at the time, unable to see what Nassar was doing from where they sat.
"He is possibly the most prolific child sex abuser in history," Michigan Assistant Attorney General Angela Povilaitis said in court on Wednesday.
The last day of the hearing included the final statements. Kaylee Lorincz said she first went to Nassar for treatment when she was 11 years old. She described what Nassar did to her touching her inappropriately while she was uncomfortable and confused.
"All I could do was question in my head why you were doing this to me and hope that soon it would be over," Lorincz told him. She said he abused her over and over.
Lorincz said that as a result of what she went through, she now wants to pursue a career in criminal justice.
"I'm hoping that by working to put monsters like you away," she said, "I might be able to stop the nightmares and start healing."
Nassar himself could be seen crying in court when Lorincz finished.
Over the course of more than a week, powerful statements were given to the court. Current MSU student Lindsey Lemke railed against Nassar and those who enabled him as he abused her since she was just 10 years old. She said to Nassar:
Larry, to me, you are the worst type of person. Someone who takes advantage. Someone who belittles. Someone who controls. Someone who took away trust. Childhoods, happiness, innocence, and someone who even took lives of others. I was abused so many times that I can't even remember when the first time was. I just know that I was only 10-years-old.
Addressing coach John Geddert, she said:
While similar to what others have told Larry, I will say to you: those little girls that you treated like objects and things are all grown up now and are here to bring you hell.
Olympic champion Aly Raisman called out USA Gymnastics and the U.S. Olympic Committee for benefiting from the success of athletes like her while doing nothing to protect them from abuse. She demanded change in the system that allowed so much to go on for so long.
"Now is not the time for false reassurances," Raisman told the court. "We need an independent investigation of exactly what happened, what went wrong, and how it can be avoided for the future. Only then can we know what changes are needed. Only then can we know what changes are real."
Other Olympians who gave statements included Jamie Dantzscher and Jordyn Wieber, and McKayla Maroney provided a statement that was read before the court.
Possibly the last girl to suffer at Nassar's hands was Emma Ann Miller. She said she'd known Nassar her entire life, tagging along for her mother's appointments before later being treated by Nassar for a back injury when she was 10 years old.
"There has never been a time in my life when I didn't know Larry Nassar," Miller, now 15, said, "but now I wish I had never met him."
Miller said the last time Nassar abused her was in August 2016, a week before MSU terminated his employment.
The final statement was from Rachel Denhollander, the first woman to file a criminal complaint against Nassar in 2016. Her allegations and a report in the Indianapolis Star led so many other victims to step forward.
Speaking to Nassar, she said:
And this is why I pity you. Because when a person loses the ability to define good and evil, when they cannot define evil they can no longer define and enjoy what is truly good. When a person can harm another human being, especially a child, without true guilt, they have lost the ability to truly love.
Denhollander also addressed Judge Aquilina, after more than 150 women and girls gave their stories, saying, "The sentence you impose today will send a message about how much these precious women and children are worth."
Nassar's attorney, Matthew Newburg said that his client is "sorry for the hurt that he has caused," and that Nassar is "the shell of the person we first met." Still, Newburg recognized that such an apology is inconsequential to his many victims.
Nassar himself then spoke briefly to his victims.
"Your words these past several days … have had a significant emotional effect on myself and have shaken me to my core, and I also recognize that this pales in comparison to the pain, trauma, and emotional destruction that all of you are feeling."
He closed by saying, "I will carry your words with me for the rest of my days."
Judge Aquilina responded, saying, "I hope you are shaken to your core. Your victims are clearly shaken to your core."
The judge then recalled the letter that Nassar submitted to the court, when he complained about having to sit through all of the victim impact statements. Aquilina quoted Nassar as insisting that his acts were "medical, not sexual," and that allegations against him were "fabricated."
Judge Aquilina noted that the letter came well after Nassar's plea. She said that until the plea, she was open to hearing evidence that Nassar's treatments truly were medical. She said that she, the defense, and the prosecution were ready for trial, until Nassar accepted a plea, "because there was no medical treatment," and there was no defense.
"This letter, which comes two months after your plea tells me that you have not yet owned what you did, that you still think that somehow you are right, that you are a doctor, that you are entitled, that you don't have to listen, and that you did treatment," Aquilina said. "I wouldn't send my dogs to you, sir."
Before announcing the sentence, the judge declared, "You do not deserve to walk outside a prison ever again."
The judge then announced that she is giving Nassar a sentence of up to 175 years in prison.
"I just signed your death warrant."
[Image via Law&Crime Network screengrab]
Have a tip we should know? [email protected]