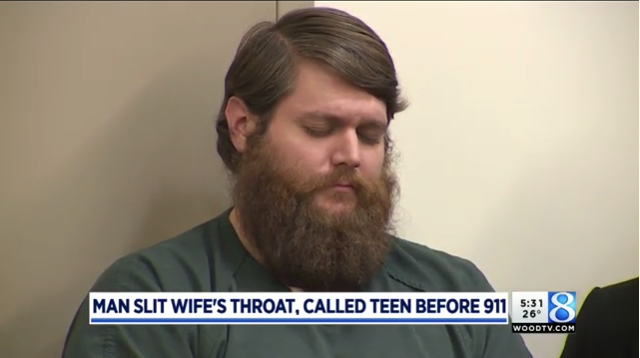 A school teacher in Michigan was given a sentence of 30 to 60 years on Tuesday following a knife attack on his wife in June of last year.
James Chelekis attacked his wife after she discovered he was carrying on a months-long affair–and having sex–with a middle school student. His ex-wife described the incident in a Grand Rapids courtroom on Tuesday. She said:
He came out of the closet behind me, my head was tipped back resting on the back of the chair with my eyes closed. Standing behind me, he kissed my forehead and slit my throat from one side to the other. The trauma I was forced to endure was horrendous.
Kent County Circuit Judge Paul Sullivan angrily concurred, describing the knife attack as "egregious" before chiding Chelekis and his attorney for attempting to mount a mental health defense. After defense attorney Shawn Perry claimed his client's actions were due to untreated mental illness, Sullivan said, "I don't buy this mental health stuff. It's pretty clear to me that you did want her to die. You expected her to die, you were wondering why it was taking so long to die."
Sullivan's spirited criticism of the defendant and the resulting sentence was likely a result of the macabre nature of the case before him. Not known as a hard-liner, the judge often issues sentences below state sentencing guidelines.
Chelekis' lengthy sentence–sentencing guidelines suggest a 19-year minimum here–was handed down immediately after his ex-wife delivered her victim impact statement. According to her testimony, Chelekis read bible verses after the attack and then phoned his 14-year-old girlfriend–who convinced him to call 911 while his wife was bleeding out.
The former Amanda Chelekis, who no longer goes by that name, was likely only able to survive due to her training as a nurse. That training, she said, provided her the ability to position her head in such a way that the blood from the wound didn't fill her airways.
While struggling with the knife, however, her hands were permanently injured.
In early January, the 32-year-old pleaded no contest to attempted murder for slitting his then-wife's throat. He also pleaded guilty to two counts of criminal sexual conduct with a minor.
[image via screengrab/WoodTV 8]
Follow Colin Kalmbacher on Twitter: @colinkalmbacher
Have a tip we should know? [email protected]