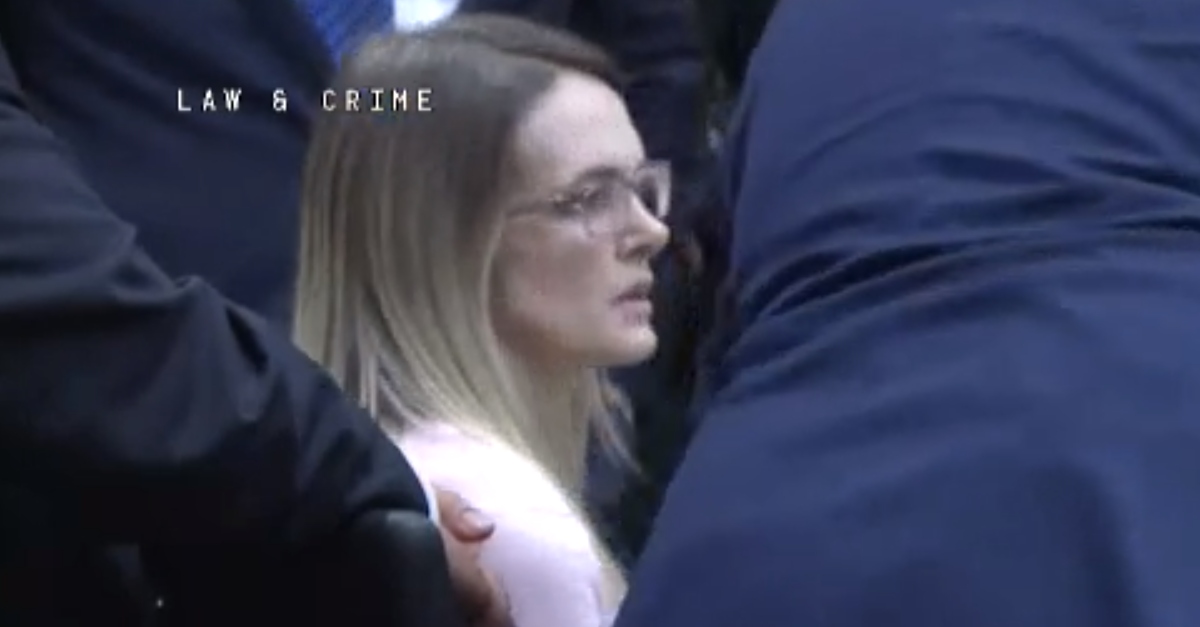 Denise Williams has been found guilty of conspiracy to commit murder, first-degree murder and accessory after the fact in the killing of her first husband Jerry Michael Williams. The jury verdict was unanimous.
Prosecutors in Leon County, Florida said Williams and her then-lover Brian Winchester planned the killing and he executed it by luring the victim (who went by the name "Mike") onto Lake Seminole for a supposed duck hunting trip in the early hours of December 16, 2000. The plan was to stage an accidental drowning, but Williams managed to hold onto a stump in the water. Winchester then pulled out a shotgun, fatally shot Williams in the face and buried his body near another lake, the state said.
This story is quite convoluted, so let's start again from the top. After all, it was a long time between the 2000 murder and Denise's 2018 arrest.
At time of Mike's disappearance, authorities treated it as a possible accidental drowning. Search efforts failed to turn up the body, and a memorial service was held in February 2001. Some thought he might have been eaten by alligators. In the meantime, Denise collected $1.75 million on three insurance policies on his life. Winchester sold two of these policies.
Winchester ended up divorcing his first wife in 2003 and married the defendant in 2005. They separated in 2012, and Williams filed for divorce in 2015. Then, in 2016, an armed Winchester broke into her vehicle, hid there for hours, and surprised her when she entered, according to testimony. He pleaded no contest in 2017, and signed an immunity agreement, in which he took responsibility as the gunman in Mike's murder, and implicated Denise as a co-conspirator. Prosecutors said he led them to the body.
He said that he and Denise started an affair in 1997, and settled on a plan to kill Mike. Winchester, who is in the middle of a 20 year sentence for the kidnapping, testified that she didn't want a divorce because of her "upbringing" and "pride." Assistant State Attorney Jon S. Fuchs cited the insurance policy as another part of the motive.
Much of the state's case rested on Winchester's account of events. Accordingly, the defense attacked his story and credibility.
Defense lawyer Ethan Way said in closing arguments that Winchester should not be believed. The allegation about Denise's involvement was "revenge" against her for the fallout from the 2016 kidnapping, he said.
The attorney settled on a theme of Winchester being a salesman and a planner, as well as an admitted murderer and a liar. Way argued that this man managed to dodge a life sentence for kidnapping, get away with murder, and retaliate against Denise by using the immunity agreement.
"He was the type of man who did not like to have someone tell him what to do," Way said, describing Winchester as a bad and controlling husband to Denise.
He insisted that the state didn't have a case beyond what came out of the immunity agreement.
Fuchs doubled-down on his case in closing arguments. He pointed to other evidence that implicated Denise. For example, Winchester's first wife and the defendant's long-time friend Katherine Thomas testified that Denise made a suspicious comment the week after Winchester's 2016 arrest for the kidnapping.
"She wanted me to tell [Winchester's father] Marcus to tell Brian that she wasn't talking," Thomas said.
Fuchs said this was in reference to Denise's alleged pact with Winchester never to discuss with anyone what happened to Mike. Thomas worked with the Florida Department of Law Enforcement as a source, and recorded a February 2018 conversation with Williams, in which the defendant apparently acknowledged making the 2016 statement.
Way dismissed the audio, and Thomas' credibility.
"She's confused," he said. "And she doesn't really know what that was about."
If there's anything that both sides could agree on, it's that Mike's death happened amid the break down of so many different relationships.
According to testimony, the victim, Denise Williams, Winchester, and Thomas all went to the same high school. They all went to the same college. Both couples stayed friends through the years. They got married the same year. They had children the same year.
Yet all that fell apart amid Mike's death. The consequences didn't just affect them.
Winchester testified that back on December 16, 2000, his father called him about Mike being missing. He said that his dad didn't want to stop searching, despite an oncoming storm.
"My dad loved Mike," he said, and apparently broke down in tears on the stand.
And of course, there's Mike's family. Testimony established that his mother Cheryl Williams never believed that he might have been eaten by alligators. When others presumed him dead from accidental drowning, she went on a crusade to find out what happened to him.
Denise allegedly didn't react well to it. Cheryl and her son Nick Williams both testified that the defendant told them in 2001 and 2005 to stop pushing for an investigation. She threatened to withhold her daughter Anslee, now 19, from family visits, and made good on that ultimatum, they said.
During cross-examination, Denise's defense spun her alleged behavior as reasonable. She was, after all, a single mother trying to raise a very young girl.
"Isn't it fair to think the granddaughter needs to be protected from the idea that Mike was going to walk through the door?" Way asked Nick.
[Screengrab via Law&Crime Network]
Have a tip we should know? [email protected]