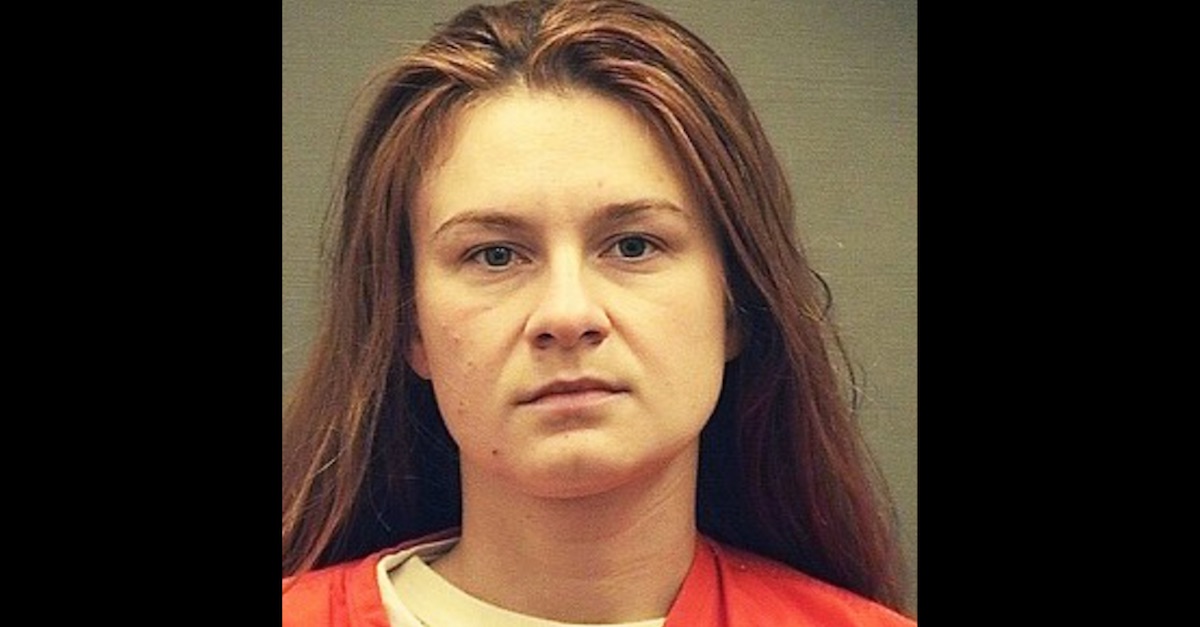 Federal prosecutors in Washington, D.C. appear to have publicly filed a document meant to be "under seal" Friday in the case of Russian national Maria Butina, who pleaded guilty just yesterday to conspiracy.
Despite the fact that the three-page motion for leave to file under seal was filed today, as indicated at the top of document below, Butina's court docket does not indicate that any such document was filed.

Credit to the Washington Post's legal reporter Spencer Hsu for spotting the apparent blunder. As the document shows, the U.S. Attorney's office in D.C. wants to move Butina from the Alexandria Detention Center she currently calls home.  The document also has the words "under seal" prominently displayed on it.
"Although the fact of defendant Butina's cooperation is now public, the details of her transportation to-and-from the jail are not," the filing says. "The disclosure of such information would pose a risk to the defendant's safety and the safety of the community."
"Once disclosed, such information could be used by individuals or entities who might seek to harm or intimidate the defendant to prevent her from continuing to cooperate with law enforcement," the filing continued.
The request for Butina's transportation also happened to reveal Butina could soon be testifying before a grand jury. Twitter time stamps indicate that NPR's Carrie Johnson posted about the filing before Hsu did, but she made no mention of this being a mistake.
As we noted, the docket does not show that the filing exists.
Law&Crime has reached out to the lead government attorneys on the case, Erik Kenerson, Thomas Saunders and William Mackie for comment and clarification. Recently, a different U.S. Attorney's office made the mistake of identifying WikiLeaks founder Julian Assange as a target of criminal charges.
In case you missed it, Butina pleaded guilty to one count of a conspiracy to act as a foreign agent as part of a plea deal that includes cooperation with the government on Thursday.
Judge Tanya Chutkan agreed to the plea change and found that Butina was "fully competent to make this plea." Butina admitted that she traveled to the U.S. to attend an NRA convention, met members of the Republican Party and eventually asked her Russian official handler, believed to be Alexander Torshin, whether she should develop a relationship with President-elect Donald Trump's inner circle. Butina admitted to doing this "under the direction" of the Russian official. Torshin, a high-ranking official of Russia's Central Bank, is considered a political ally of Russian President Vladimir Putin.
Butina's NRA-connected past boyfriend Paul Erickson was implicated in her crime. Erickson allegedly "agreed and conspired" with Butina to "establish unofficial lines of communication with Americans having power and influence over U.S. politics." Erickson issued a statement on Tuesday through his lawyer Bill Hurd to deny that he has ever done anything to hurt America.
"Paul Erickson is a good American. He has never done anything to hurt our country and never would," Hurd said. Erickson, a U.S. citizen, has reportedly received a "target letter" from prosecutors and may be charged for acting as a foreign agent.
Butina could be deported after doing time, but may also be eligible for supervised release if she stays in the U.S., the judge suggested. A status hearing has been set for Feb. 12. She waived her rights to trial and appeal as part of the plea.
[Image via Alexandria Detention Center]
Have a tip we should know? [email protected]