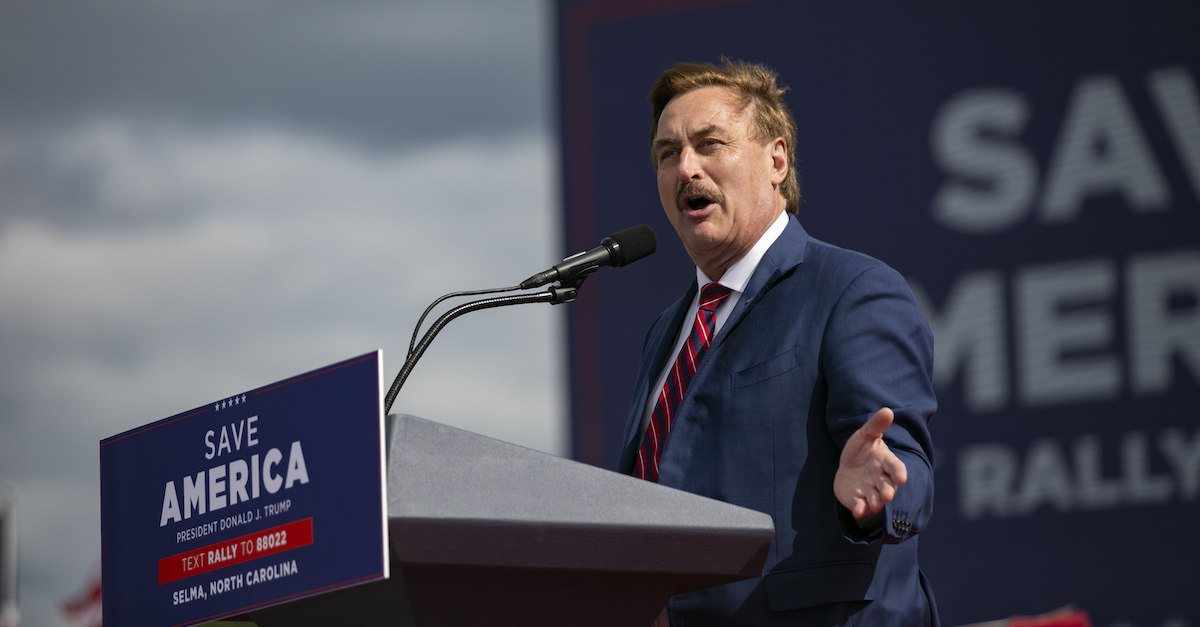 A federal judge in Minnesota appointed by Donald Trump on Thursday rejected a motion for a temporary restraining order which was filed just yesterday by local counsel and self-described constitutional consultant Alan Dershowitz on behalf of MyPillow CEO Mike Lindell.
U.S. District Judge Eric C. Tostrud noticeably cited a Wednesday ruling by the 11th Circuit Court of Appeals that significantly tailored another Trump-appointed district judge's special master order in the ongoing Mar-a-Lago clash between the former president and the DOJ.
Like the Trump case, the judge noted, plaintiff Lindell is seeking return of property as DOJ conducts an active criminal investigation (Lindell has not been accused of a crime and is considered a "subject"):
"[W]hen the owner of seized property seeks injunctive relief for the return of property while the case remains in the investigative stage (i.e. before criminal charges are brought), the district court must also balance the government's interest in retaining the property against the owner's right to get it back." Id. at 1240; see also Trump v. United States, No. 22-13005, 2022 WL 4366684, at **7–9 (11th Cir. Sept. 21, 2022) (applying like factors in adjudicating motion for partial stay of district court order).
The judge did not stop here, adding the following blockquote to illustrate his point:
"It is a familiar rule that courts of equity do not ordinarily restrain criminal prosecutions." Douglas v. City of Jeannette, 319 U.S. 157, 163 (1943); see also Deaver v. Seymour, 822 F.2d 66, 71 (D.C. Cir. 1987) (Silberman, J.) (rejecting civil suit to enjoin government from indicting plaintiff and explaining that "[p]rospective defendants cannot, by bringing ancillary equitable proceedings, circumvent federal criminal procedure."); United States v. McIntosh, 833 F.3d 1163, 1172 (9th Cir. 2016) ("In almost all federal criminal prosecutions, injunctive relief … will not be appropriate. Federal courts traditionally have refused, except in rare instances, to enjoin federal criminal prosecutions.").
Lindell filed suit against Attorney General Merrick Garland and the U.S. as recently as Tuesday, Sept. 20, in a bid to get his cell phone back following a search at a Hardee's.
The judge indicated it would be "[f]ar wiser to hear from Defendants (and Plaintiffs) regarding these and other potentially relevant factual and legal questions before deciding any aspect of Plaintiffs' motion."
Noting that a TRO is an "extraordinary remedy," Tostrud said he denied the Lindell motion "to the extent it seeks an ex parte temporary restraining order directing Defendants to refrain from accessing or taking any action with respect to the seized cellphone until a hearing on that aspect of their Motion seeking a preliminary injunction."
In other words, the judge wants to hear from both sides before taking such a significant step.
The judge also ordered Lindell's side to "contact the court to obtain a hearing date," after which point a briefing schedule will be "established."
Notably, Dershowitz indicated in an interview with the Law&Crime Sidebar podcast that he intended to seek a special master in the case.
The judge's Sept. 22 ruling is here:
The Sept. 21 Lindell motion:
[Image via Allison Joyce/Getty Images]
Have a tip we should know? [email protected]