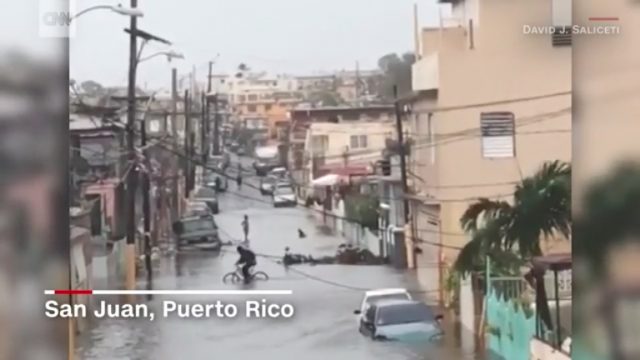 The U.S. colony of Puerto Rico has been all-but completely destroyed by Hurricane Maria and the United States is unwilling or unable to help the millions of American citizens–all Puerto Ricans–who live there. Multiple foreign nations have expressed their desire to send aid in the form of food, water, medicine and manpower–but they can't because the Trump administration won't allow them to do so.
Such refusal and incompetence is ethically suspect in the extreme, but is it legal?
The administration does have some support within U.S. law here. That law is the Merchant Marine Act of 1920, commonly known as the Jones Act. Under Section 27, the Jones Act provides, in relevant part:
No merchandise…shall be transported by water, or by land and water, on penalty of forfeiture of the merchandise (or a monetary amount up to the value thereof as determined by the Secretary of the Treasury, or the actual cost of the transportation, whichever is greater…), between points in the United States, including Districts, Territories, and possessions thereof embraced within the coastwise laws, either directly or via a foreign port, or for any part of the transportation, in any other vessel than a vessel built in and documented under the laws of the United States and owned by persons who are citizens of the United States, or vessels to which the privilege of engaging in the coastwise trade is extended…
This language, originally passed nearly 100 years ago, was recently re-codified at 46 U.S.C. §883 and though heavily protectionist in nature, is still the law today. The Jones Act provisions are also fairly inscrutable to the naked eye. So, let's spare a dissection of all the Act's legalese. The Maritime Law Center explains the basic thrust of the Jones Act this way:
The Jones Act…is the act that controls coastwise trade within the United States and determines which ships may lawfully engage in that trade and the rules under which they must operate. Generally, the Jones Act prohibits any foreign built or foreign flagged vessel from engaging in coastwise trade within the United States.
One term, however, has proven somewhat controversial when discussing the Jones Act–"coastwise trade". This term has been subject to numerous interpretations–and lawsuits–but federal courts have mostly settled on an expansive definition: any seafaring trip at any point within U.S. territorial waters and containing any form of commercial cargo. This definition has been further broadened by expanding the definition of "merchandise" to anything of potential commercial value–even materials dredged for use in a landfill, the Law Center notes.
The Jones Act isn't a full-on ban of foreign ships entering Puerto Rico, however, it simply imposes exorbitant fees on foreign shippers and bureaucratic nightmares–which waste both money and time–on any foreign vessels attempting to make deliveries to the island colony. This results in higher prices–and during the present crisis has the practical import of stopping much-needed supplies and relief aid from reaching Puerto Ricans. In effect, the law is keeping foreign ships away from the island when their help could prove instrumental.
So, that's the law on the books. So what if Venezuela, Cuba, or anybody else wants to help Puerto Ricans when their own government is unable or unwilling to do so? Them's the black-letter breaks–and there's just nothing anyone can do about it, right? Wrong.
The U.S. Department of Homeland Security can easily issue waivers to the Jones Act's restrictions on foreign built and foreign flagged vessels–but has summarily refused to do so thus far. This refusal comes even though such waivers have been asked for by members of Congress on both sides of the aisle. Democratic Representative Nydia Velázquez (D-NY) and Senator John McCain (R-AZ) have been pleading with Homeland Security Director Elaine Duke to issue such waivers, but she's not listening.
Duke's response so upset McCain that he wrote a letter, saying, "It is unacceptable to force the people of Puerto Rico to pay at least twice as much for food, clean drinking water, supplies and infrastructure due to Jones Act requirements as they work to recover from this disaster."
The Trump administration's refusal is made even more curious–some might say egregious–by the fact that issuing Jones Act waivers is actually common practice. Jones Act waivers were recently issued in the aftermath of Hurricanes Irma and Harvey. Even President George W. Bush–whose presidency disintegrated after his neglectful Katrina response–issued a Jones Act waiver after New Orleans went underwater (though his motivation for doing so has been questioned by some liberal critics.)
So, flat out: if any legalistic busybodies or MAGA stans inside or outside of the White House insist the do-nothing Trump administration is simply ham-strung by the vice-like grip of The Law, they're wrong–it's more of a grip-like vice. But why the reluctance to let other countries do what the U.S. can't or won't?
Gregory Moore, with Customs and Border Protection, said a Jones Act waiver wasn't necessary because, "The limitation is going to be port capacity to offload and transit, not vessel availability." But Puerto Rico isn't buying that excuse.
Juan Declet-Barreto, with the Union of Concerned Scientists, said "Our dependence on fossil fuel imports by sea is hampering the restoration of services," and claimed that Trump's opposition to a waiver "is raising fears on the island that they are going to be left behind in this disaster."
Many political observers have chalked up Trump's unwillingness to help Puerto Rico as some form of cheap political payback. This theory is superficially appealing because: (1) 72 percent of Puerto Rican voters preferred Hillary Clinton; and (2) Trump is famously petty, begrudging and mercurial. Puerto Ricans have never demonstrated their value to Trump–and he probably just learned that Puerto Ricans are U.S. citizens–so it would make sense that he really can't be bothered to send help when he's got a lot of tweeting to do.
Others have attributed Trump's apparent neglect to a larger trend of Republican Party mean-spiritedness generally. This theory asserts that the GOP is attempting to set some–or rely on earlier–precedent with the (lack of) response to Puerto Rico's devastation. The argument goes: ignoring the millions of Americans there now makes it easier to set the bar forever lower for U.S. disaster response in the future.
Whatever the motivation for Puerto Rico's unnecessary slighting and neglect, there's no legal basis for the island's continued misery.
[image via screengrab]
Follow Colin Kalmbacher on Twitter: @colinkalmbacher
Editor's note: this post has been updated to clarify the tariffs imposed by the Jones Act.
Have a tip we should know? [email protected]