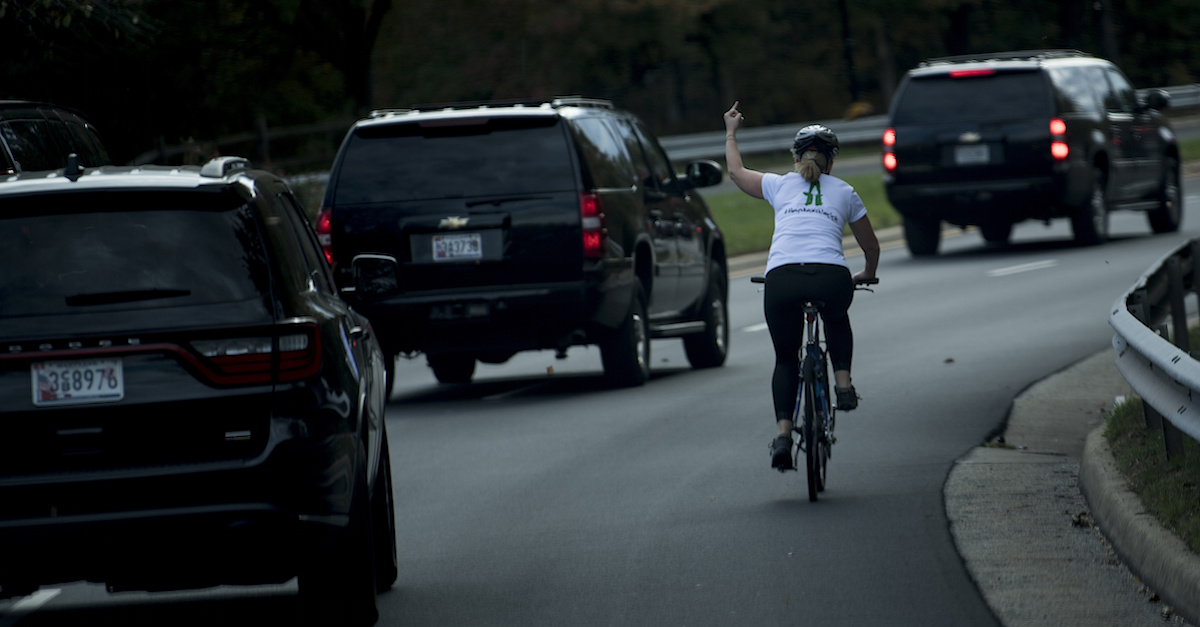 Remember Juli Briskman, the cycling woman who was photographed flipping off President Donald Trump as he passed by in a motorcade on October 28, 2017 and consequently lost her job? She's filed a wrongful termination lawsuit against her former employer, government contractor Akima LLC.
Briskman, a 50-year-old single mom to two teens, is suing Akima LLC for both wrongful termination and breach of contract.
On the former count, the complaint alleges that Akima LLC violated Virginia employment law by firing Briskman to protect its government business interests.
She claims that her termination amounts to government censorship, even if the government wasn't involved in her firing.
"Government censorship no longer needs to rely on the heavy hand of the censor," the complaint says. "Instead, around the world, autocrats are increasingly relying on private companies that have interests in government contracts and benefits to silence their employees for them."
The lawsuit claims that companies like Akima fire employees who oppose the government in order to keep their business.
"And that process — the 'autocratic capture' of the private sector–threatens the free-speech rights and financial security of those who speak out and silences activists by forcing them to choose between their livelihood and their political speech and activism," the lawsuit continues.
"Although many will disagree with Ms. Briskman's message and her means of expressing it, there can be no doubt that such speech is at the very core of the First Amendment and the Virginia Constitution," Briskman's attorney, Maria Simon, said in a statement.
The complaint includes a couple of details to support their claim.
It says Briskman, two days after the photo was taken and went viral, went into work on Monday, Oct. 30, 2017 and approached Jessica Hoke of Human Resources. That night the photo appeared on The Tonight Show with Jimmy Fallon and Briskman sent a video of that to her supervisor, Mr. Frazier.
The next day, Briskman was asked to stay after a meeting. Hoke, Frazier, and Vice President Joe Boeckx entered the room, and Briskman was informed her position was being terminated for two reasons.
The first, according to the complaint, is that the photo could link Briskman to Akima LLC, which, as a government contractor, feared retaliation by the President and his administration. The second is that the photo violated the company policy on posting obscene content on social media.
Briskman did feature the photo on Facebook, where she wasn't linked to Akima, and Twitter accounts, but not LinkedIn.
Regarding the first reason, the complaint says Boeckx called the photo a "social media tattoo," that he "repeatedly stressed during the meeting in which he terminated [Briskman] that even a cursory search of Plaintiff's Twitter or Facebook feed would link the photograph" to Akima LLC and that Boeckx stated the U.S. government is Akima's customer.
Related to the obscene content policy, the complaint describes how another employee, who was speaking politically online while being directly linked to Akima LLC (and there are photos included to support this), used "far more obscene language to discuss political ideologies and beliefs online" but was treated differently from Briskman.
Robert Moore is quoted as saying "You're a fucking Libtard asshole" in a Facebook discussion about Black Lives Matter.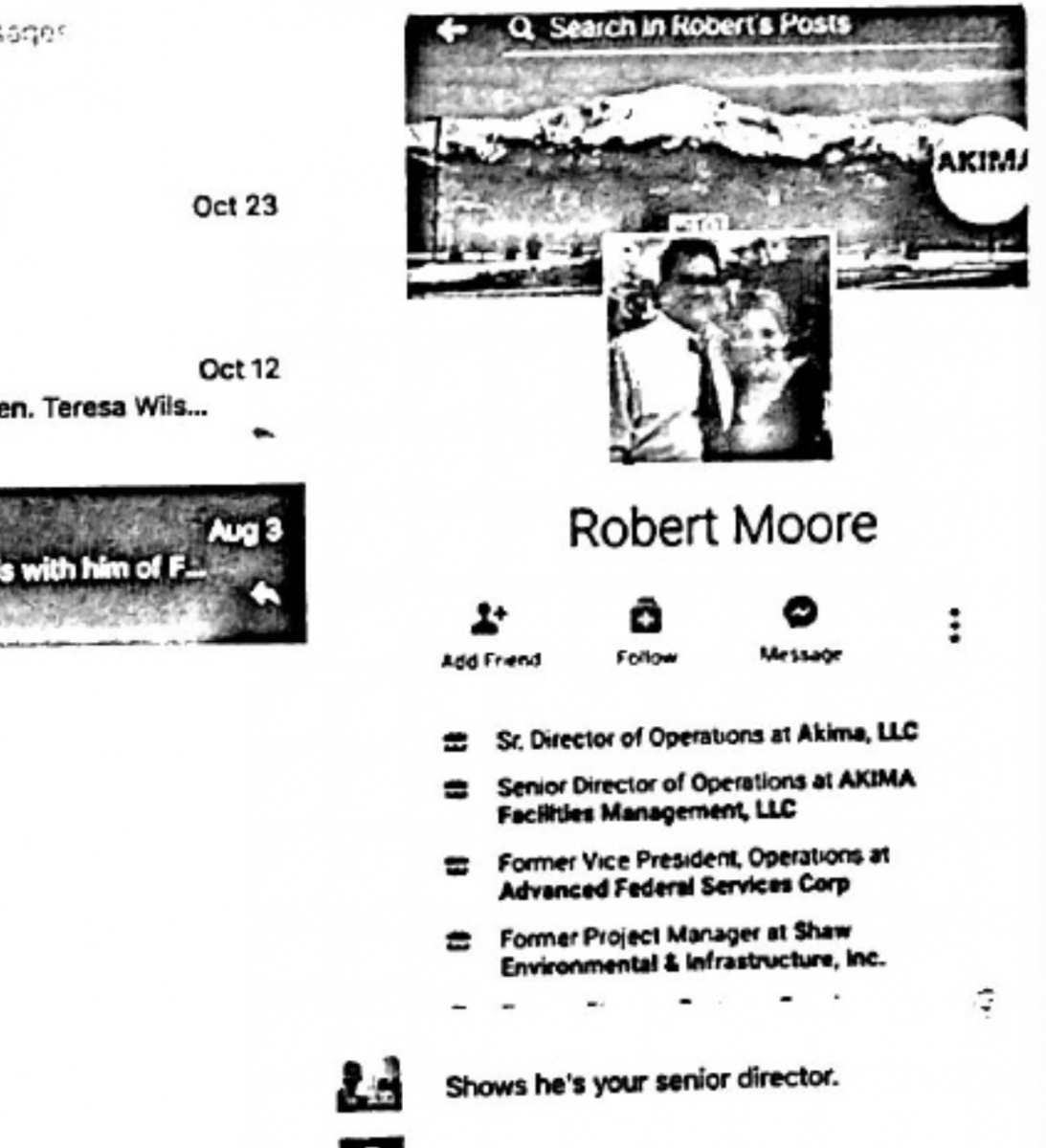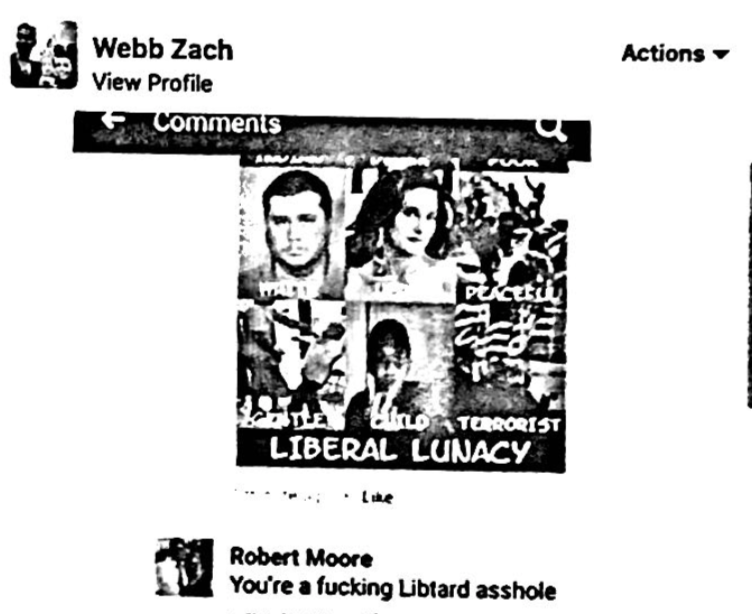 The document says the actions against Briskman were "inconsistent" with actions taken against Moore. According to Briskman's attorneys at the Geller Law Group, Moore was allowed to delete the comment and keep his job.
The company asked Briskman to resign rather than to have termination on her file. Briskman's team concluded that forcing her to resign "out of fear of unlawful relation by the government" violated Virginia public policy and they are asking the court to grant her compensatory damages at trial.
The second thing Briskman is suing Akima LLC for is breach of contract. She says she was promised four weeks of severance pay and was only given two weeks' pay.
For that, Briskman is demanding $2,692.30 plus money for legal fees.
Law&Crime reached out to Akima LLC for comment, but has not gotten a response at this time.
Briskman herself said in a statement:
I filed this lawsuit against my former employer today because I believe that Americans should not be forced to choose between their principles and their paychecks. Working for a company that does business with the federal government should provide you with greater opportunities, but it should never limit your ability to criticize that government in your private time …. It is un-American to let the government use your own tax dollars to buy your off-duty obedience."
Juli Briskman complaint on Scribd
[Image via Brendan Smialowski/AFP/Getty Images]
Have a tip we should know? [email protected]