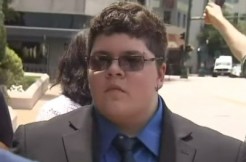 You might remember 17-year-old Gavin Grimm's lawsuit against the Gloucester County School Board in Virginia. The transgender boy recently won in U.S. District Court, where a judge ruled he should be allowed to use the boys' restroom at his high school. Now the court battle has reached the U.S. Supreme Court, but not in the way you'd maybe expect.
The school board has filed an emergency application with the highest court in the land, according to a Reuters report.
"Our nation's schools have structured their facilities and programs around the sensible idea that in certain intimate settings men and women may be separated," the school board's lawyers wrote in their filing.
This comes after Tuesday, when an appeals court rejected the school board's request to put the district court's injunction on hold.
Emergency applications are filed to Supreme Court judges on an individual basis. It's not unheard of for applicants to reach out in this way, and demand that a lower court's ruling be put on hold.
"Case law has established four general criteria that the applicant normally must satisfy in order for the Court to grant a stay," according to a guide by the court's Public Information Office. 1) There must be a "reasonable probability" that at least four judges would want to hear the case in court; 2) a "fair prospect" that the judges could rule for the applicant if the case actually made it to the Supreme Court; 3) denying the application would cause "irreparable harm"; and 4) the Circuit Justice reviewing the application might also consider public interest, as well as "relative harms" to the applicant and respondent.
Chief Justice John Roberts covers the Fourth Circuit Court of Appeals (which encompasses Virginia), so he'll be the one to review the application. He can act alone, or send it to the full court.
Regardless of Roberts' decision, this doesn't mean Grimm's case would make it to the Supreme Court per se. The petition for a writ of certiorari would be a separate matter.
This news comes amidst a national debate over transgender people's rights. 23 states have sued the federal government over an Obama administration directive, which told public schools they had to be trans friendly when it came to restrooms.
–
Follow Alberto Luperon on Twitter (@Alberto Luperon)
Have a tip we should know? [email protected]