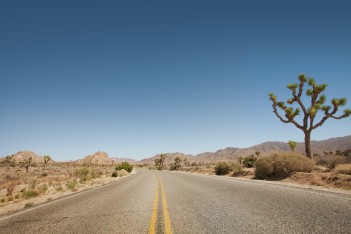 A homeless couple from California was arrested after authorities say they left the woman's three small children in the desert as punishment.
A San Bernardino Sheriff's Department press release states deputies responded to a call about three small children that were spotted wandering around a patch of desert in Twentynine Palms, CA.  The children — ranging in age from five-years-old to seven-years-old — were found by deputies around 11:00 AM on Wednesday without shoes or water.  Temperatures in Twentynine Palms reached triple digits on Wednesday, but the children were reportedly unharmed and did not require medical attention.
Deputies tracked down the children's mother, identified as Mary Bell, 34, and her boyfriend, Gary Cassle, 29.  During the investigation, deputies say they learned the children were left in the desert as a form of discipline.  Bell and Cassle were arrested on charges of child abuse and are currently being held at the Morongo Basin Jail with bail set at $100,000.
San Bernardino Sheriff's Department spokeswoman Cindy Bachman told the Los Angeles Times the children are now in the care of family services.
Have a tip we should know? [email protected]