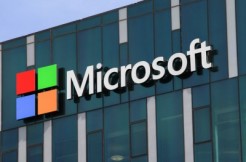 Software giant Microsoft won a federal appeal against the U.S. government on Thursday. A three-judge panel ruled that the company doesn't have to turn over customer emails stored overseas. The decision overturns a judge from the U.S. District Court for the Southern District of New York, who held Microsoft in civil contempt "for its failure to comply" with a warrant.
Judge Susan Carney wrote the majority opinion:
We therefore decide that the District Court lacked authority to enforce the Warrant against Microsoft. Because Microsoft has complied with the Warrant's domestic directives and resisted only its extraterritorial aspects, we REVERSE the District Court's denial of Microsoft's motion to quash, VACATE its finding of civil contempt, and REMAND the cause with instructions to the District Court to quash the 7 Warrant insofar as it directs Microsoft to collect, import, and produce to the government customer content stored outside the United States.
Judges said the Stored Communications Act didn't empower the government to make its initial demand. The feds got a warrant to make Microsoft hand over customer emails stored on a server in Ireland, but Microsoft resisted. Their fight went to U.S. District Court in 2014, where the company lost.
But while Thursday's ruling was unanimous, Judge Gerard E. Lynch wrote a concurring opinion, saying "the government's arguments are stronger than the Court's opinion acknowledges." He wrote that some "reasonable people" would want better privacy from the SCA, "at an even high cost to criminal investigations," while other "reasonable people" would want law enforcement to have more access to online communications. Nonetheless, this case doesn't rest on the judges' interpretation of privacy rights, he wrote. It rests instead on what he called "the international reach of American law."
It is the traditional task of Congress, in enacting legislation, and of the courts, in interpreting the Fourth Amendment, to strike a balance between privacy interests and law enforcement needs. But neither privacy interests nor the needs of law enforcement vary depending on whether a private company chooses to store records here or abroad – particularly when the "records" are electronic zeros and ones that can be moved around the world in seconds, and will be so moved whenever it suits the convenience or commercial purposes of the company. The issue facing the Court, then, is not actually about the need to enhance privacy protections for information that Americans choose to store in the "cloud."
[h/t Reuters]
–
Follow Alberto Luperon on Twitter (@Alberto Luperon)
Have a tip we should know? [email protected]