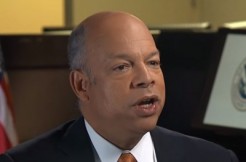 Federal immigration officials will arrest and deport hundreds of Central American women and their children in May and June, according to a report from Reuters. It's expected to be a bigger operation than a similar one in January, where 121 people were detained.
Here's how the new sweep is projected to work (this may change): offices for Immigration and Customs Enforcement will conduct a 30-day operation. Mothers and children that have already been told to leave the U.S. will be targeted, as well as minors who entered the country alone and have turned 18, according to the document Reuters saw. The news outlet said two sources confirmed that the plan was the real deal.
But does the ICE say this is the real deal? A spokeswoman told Reuters they don't "confirm or deny the existence of specific ongoing or future law enforcement actions." So take that as you will.
Homeland Security Secretary Jeh Johnson (who has authority over ICE) was concerned about an increased number of illegal border crossings, according to a document obtained by Reuters. The White House has said there was a "surprising uptick" of immigration by families and unaccompanied minors in August. Reuters said the period from October 2015 to March 2016 saw a higher number of family units (women and children traveling together) than from the same periods in 2013-2014, and 2014-2015.
News of this operation has already garnered its share of criticism.
"It is unfortunate that there continues to be a resort to these tactics that divide communities and families," Andre Segura, an immigration attorney for the ACLU, told Fusion.
The exact time period of the operation is unknown.
[screengrab of Johnson via ABC News]
–
Follow Alberto Luperon on Twitter (@Alberto Luperon)
Have a tip we should know? [email protected]