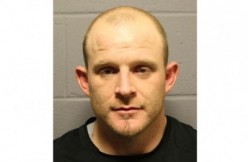 A Kansas man faces charges after allegedly kidnapping a woman he met on Tinder. Shane Steven Allen faces one count of kidnapping, and four counts of aggravated battery, according to court records obtained by The Lawrence Journal-World. Now administrators of the dating website have issued a statement addressing this.
The alleged victim, a 20-year-old college student in Lawrence, Kansas, left her sorority house to meet Allen in April, according to records. Apparently, they'd hung out once, and nothing went wrong. That would reportedly change.
Allen allegedly kidnapped and beat her up after accusing her of flirting with one of his friends. When she asked him to take her back home, he allegedly told her no, she had to wait until "the swelling around her eyes reduced," according to records. Over the course of six days, he allegedly attacked her several times, including choking her until she went unconscious. She finally convinced him to take her home on the sixth day, records said.
The alleged victim sustained numerous injuries, including two black eyes, as well as cuts and bruises all over her body.
Police arrested Allen shortly after. He is being held at the Douglas County Jail pending $100,000 bond, and is scheduled for a court hearing on June 24.
"People with bad intentions exist everywhere," Tinder said in a statement obtained by CBS in a Friday report. It said it was "shocked and saddened" by the allegation, and that Allen's profile was scrubbed from the site.
[mugshot via Douglas County Jail]
–
Follow Alberto Luperon on Twitter (@Alberto Luperon)
Have a tip we should know? [email protected]